Taký obyčajný pracovný deň. Nie však pre všetkých. Pre osoby s mentálnym a zdravotným postihnutím výnimočný. Občianske združenie Milan Štefánik si pre nich pripravilo v poradí už šiesty ročník benefičného podujatia Veľa lásky. Miesto konania – Alfa sála košického kultúrneho centra Kulturpark. Na plagáte známe mená. Je sa na čo tešiť.
Ale nepredbiehajme. Kým to všetko vypukne, treba veľa spraviť. Dobrovoľníci už vedia ako na to. Od rána nosili, skladali. Lepili. Ešte hlavný baner. Chlapi dvíhajte. V jednej miestnosti koncert. Tu treba všetko potrebné na pódium. Aparatúra. Mikrofóny. A druhá miestnosť sa mení na kreatívne dielne. Čo je v nich dnes pripravené. Enkaustika – maľovanie horúcim voskom. Maľovanie na drevo a polystyrén. Maľovanie na tvár. To budú zas zázračné bytosti s farebnými trblietkami na tvárach.
Farebné tričká pripravené. Dievčatá pri vstupe už vítajú prvých prichádzajúcich. Tak 3, 2, 1. Štart. A štartuje i zábava. Zumba s Táňou roztáča veselú náladu latino rytmami a tancom. Noha vpred. Noha vzad. Poďte si to všetci vyskúšať. Vyskočiť. A otočka. "Nádherná akcia. Kopa pozitívnej energie. Veľa priateľov. Ruky hore, tanec okolo nás. Nádherná akcia. Ďakujeme veľmi pekne." Ruky nad hlavy a zamávať. Taňku s jej dievčatami "inak obdarení" doslova zasypali darčekmi.
Na pódium už vybieha moderátor dnešného podujatia. Kto to bude? Obecenstvo skanduje: Braňo, Braňo. Pozvanie k moderátorskému mikrofónu na prijal Braňo Mojsej. Prečo prijal pozvanie? "Veľmi ma oslovila táto myšlienka. Keď som sa dopočul, že vôbec niečo také sa organizuje, veľmi ma to nadchlo." Braňo neostáva na pódiu sám. Pozýva k sebe organizátora, Milana Štefánika a sympatizantku OZ Gabrielu Bačovú, aby na úvod povedali pár slov. Ujímajú sa milej povinnosti. Obraz od výtvarníčky Henriety Rojkovej odovzdajú do Jasanima DSS v Rožňave. Prevziať zo zariadenie ho prišla Monika Nezbedová, kde bude zdobiť chodbu zariadenia.
Je čas uviesť prvého hudobného hosťa. Do "arény" prichádzajú statní muži v čiernom. Kapela Gladiátor. Slovenskí rockeri telom i dušou. Na scéne im to funguje už viac ako tri desaťročia. Bicie, gitary, klávesy a nezameniteľný hlas Mika – lídra kapely. Neviem ťa nájsť. No v Kulturpaku si našli cestu k nadšenému publiku. Svojich fanúšikov majú v každej vekovej skupine. Určite i vďaka textom, ktoré sú zo života. Život pred sebou. "Veľmi radi chodíme na tieto koncerty, pretože sú tu úžasní ľudia. Majú v sebe veľkú lásku a my ju na pódiu cítime. Naozaj si to užívame naplno a odchádzame s nádhernými pocitmi, že sme tu boli, že je to fantastické." Nemôžem dýchať. A dnes sme si Kúpili pekný deň. Vonku slnko, akoby ani nebola polovica novembra. V sále to vrie. Štíty hôr. Ty si tá. Hlavu maj hore. Nechcem o teba prísť. Ani my o Vás. Nech koncert trvá stále. Veď Keď sa láska podarí, nie je čo riešiť. "Inak obdarení" tancujú, spievajú. Nad hlavami farebné transparenty. "Veľmi sa nám samozrejme páčil ten názov – Veľa lásky. Naozaj to spĺňalo všetky atribúty. Decká aj dospelí boli perfektní a užili sme si to, zaspievali sme si, opäť sme sa videli…" Čo nesmie chýbať? Medulienka a Bonboniera. S "čerešničkou" na záver. Láska. Nálada v sále perfektná. "Ďakujeme za krásne darčeky, ktoré nám urobili."
I keď epidemiologické opatrenia už nie sú, predsa len je potrebné predstaviť dezinfekčnú hliadku. Lenka a Soňa vysvetlili všetko potrebné a dôležité. Výmena nástrojov, plus pauza na občerstvenie. Pripravené sú chutné záviny a malinovky. Čas vrátiť sa do sály. Pripravený je ďalší hudobný hosť. Nikto iný, ako famózna HRDZA. Päť rúčich chlapcov a dve krásne devy. Husličky a akordeón. Tie hlasy. Ani mikrofóny by nepotrebovali. Repertoár autorských piesní lídra Slavomíra Gibartiho inšpirovaný folklórom, okorenený prvkami rocku a world music. Basová gitara. Slavomír oblečený v kroji. A sála plná. "Toto pozvanie sme prijali veľmi radi. Jednak je to pre nás blízko, lebo sme z východu, a chceli sme si zahrať aj niečo iné a potešiť detičky. Deti sú to najkrajšie na svete čo je a museli sme ich prísť potešiť." Košieľočka, Chodila dievčina, Mám ja orech … začuli sme i prvky írskej hudby. "Inak obdarení" sa bavia. Ruky nad hlavami i farebné transparenty. "Joj super je to. Úžasné. Boli tam aj naše fotky, naše nápisy. Krásne transparenty to boli. Super to bolo, aj som si to musel natočiť, odfotiť." Energia v sále priam hmatateľná. Ej. Taká sa mi páči. každý sa chce baviť. Ktorú pieseň si dáme ako poslednú? No tú našu. Čo chytí za srdiečka asi všetkých. Slovensko moje, otčina moja. Slavomír to povedal za všetkých. "Muzika je niečo, čo lieči, ukľudňuje, poteší, dodá energiu, a človeka navodí na takú inú vlnu. Aj keď má človek ťažké chvíle, muzika je tá, ktorá mu pomôže na niečo iné myslieť, trochu odľahčiť ťažkosti v živote. A možno práve takéto detičky pociťujú muziku lepšie. Viacej ju prežívajú a majú väčšiu radosť. Oni sa neskrývajú. Ešte sme len vlastne prišli ku pódiu a už sa niektorí tešili. Už mi mávali, chceli si podávať ruky. Tak som prišiel aj k nim a aj som ich pozdravil. Milé to bolo."
A teraz nastala milá povinnosť pre organizátora. Oceniť snahu "inak obdarených" ich kreativitu. Vyhodnotenie transparentov a mávadiel. Kto sa toho ujme? Organizátor Milan Štefánik si na pomoc pozýva členov Kapely Peter Bič Project a Braňa Mojseja. Veď vybrať tie naj je veľmi zodpovedná úloha. Tento krát sa transparenty prítomným naozaj vydarili. Rozhodnutie je ťažké. Ktorý vybrať? Najväčší? Či najfarebnejší? Alebo ten, na ktorom sú uvedení všetci účinkujúci? Postupne vybrané. Víťaz si odnáša hodnotnú cenu. Ale tiež ostatní, ktorí sa snažili a vytvorili i to najmenšie mávadlo, si odnášajú malé darčeky.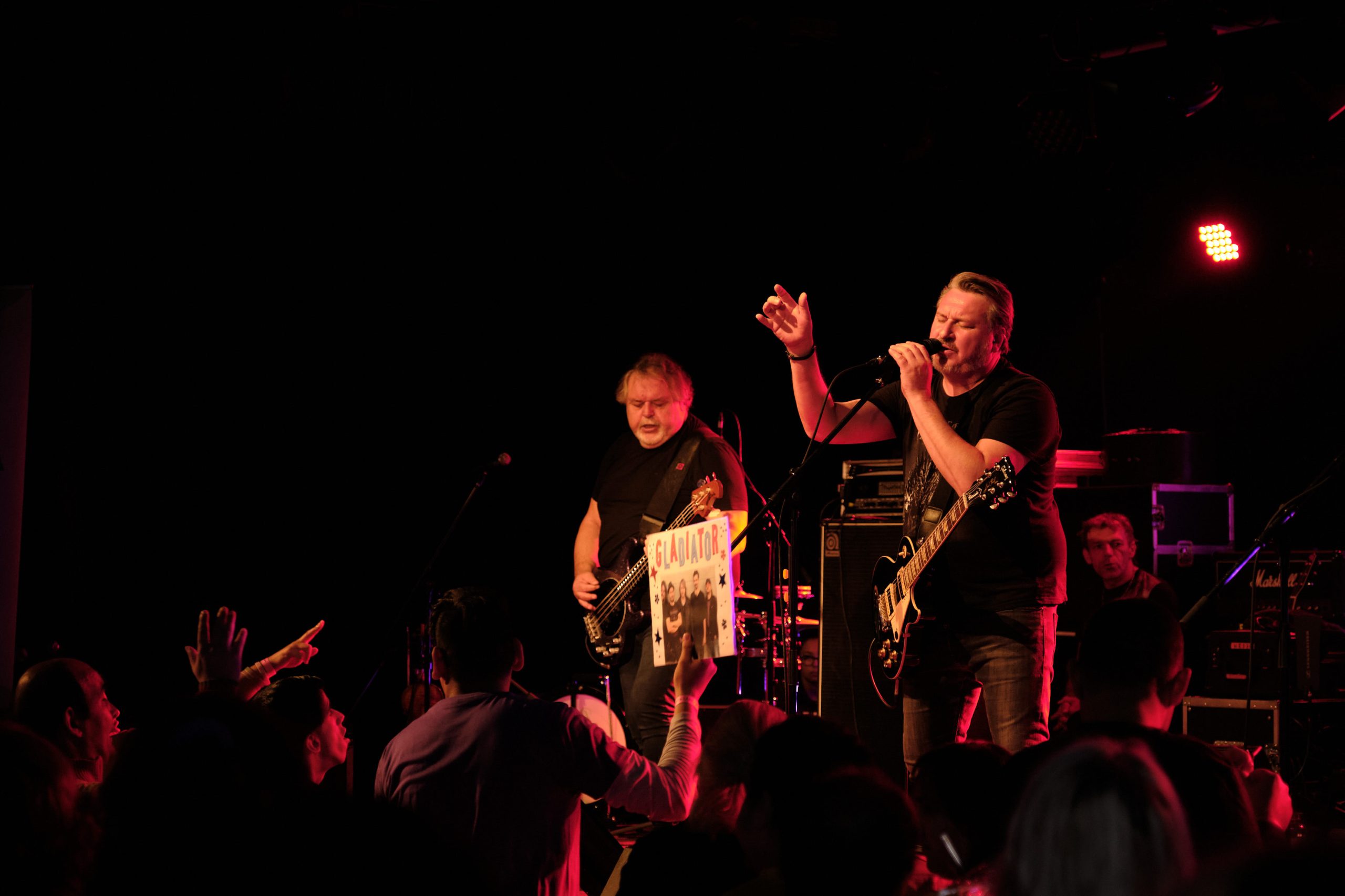 Časť porotcov rovno ostáva na pódiu. Na rade je posledný hudobný hosť. Peter Bič Project. Na koncert si odskočili tak povediac z obývačky. Peter v typickom barete. Speváčka Victoria so štýlovou čiapkou. Naplno roztočili kolotoč piesní a strhli prítomných energiou. Všetko bude fajn, len muzika hraj… pridajte sa v refréne: laj, laj, laj, laj, laj. "Chodíme tu radi. Deti sú úžasné, a je úžasné ich vidieť po troch rokoch opäť pred pódiom. Ako spievajú, ako sa tešia. Ako skáču, tlieskajú. Ako poznajú pesničky, ako si to užívajú. Takže sme tu radi." Pridávajú sa i husličky. Skúšame sa nájsť. Baladická s jemnou gitarou. Tam za tou bránou. V sále niet už voľného miestečka. Všetci tancujú, spievajú. Ruky hore a poďme si to odtlieskať. Nedívaj sa tak. "Ostáva v nás nádherná atmosféra a nádherný pocit. Keď vidíme ako naozaj úprimne od srdca a zo srdca sa tieto deti tešia a akú majú naozaj radosť. To je na nezaplatenie. To je viac ako všetky ostatné koncerty." "Inak obdarení" skandujú. Poďme si ešte zaspievať ďalšie a ďalšie. A už je tu posledná. My veríme, že sa vidíme Čoskoro. Dlhý potlesk. Darčeky. Od detí pre kapelu. "Bolo to veľmi pekné a veľmi si vážime, že si dali tú námahu a že si našli čas vytvárať tieto veci z celého srdca. Proste dali do toho celú lásku. A išli s tým do toho, že nás chcú obdarovať. Veľmi si to vážime, je to naozaj milé."
Posledné obzretie. Pár fotiek. Zamávanie. Na záver poďakovanie. Organizátorovi za skvelo zvládnutú akciu. Hudobníkom. Dobrovoľníkom. Sponzorom. "Inak obdareným" za energiu, ktorou naplnili priestory Košického kultúrneho centra Kulturpark. Slovami Braňa Mojseja: "jednu veľkú poklonu musím skloniť pred ľuďmi, ktorí toto zorganizovali. Lebo toto zorganizovať, ako vidím všetko, čo sa tu deje, tak veľmi jednoduché nebolo. A veľmi držím palce, aby mali nadšenie robiť to ďalej, pretože mne sa to veľmi páči." A my sa tešíme, že sa naplnili ich očakávania a tento deň bol plný lásky, dobra, emócií a radosti.
Text: Júlia Platková
Foto: Milan Maršalka a Peter Ivan
Video: Igor Kolesár