Nie sú na scéne ešte ani rok a už vydávajú svoje single na debutovom albume. České tínedžerské popové hviezdy Ben & Mateo uzatvárajú svoju prvú spevácku etapu a súčasne začínajú pracovať na nových skladbách so slovenským producentom a hitmakerom Tomim Popovičom.
Ben a Mateo vstúpili na scénu počas pandémie, doslova uprostred dvoch covidových vĺn a lockdownov. Jedinou cestou k fanúšikom sa pre nich preto zatiaľ stali single, videoklipy a komunikácia prostredníctvom sociálnych sietí. Za tých pár mesiacov na scéne sa z mládencov vykľula poriadne aktívna dvojka. Vydávali jeden klip za druhým a v týchto dňoch prekvapili tým, že hoci sú na scéne iba niečo vyše siedmich mesiacov, už vydávajú svoj debutový album.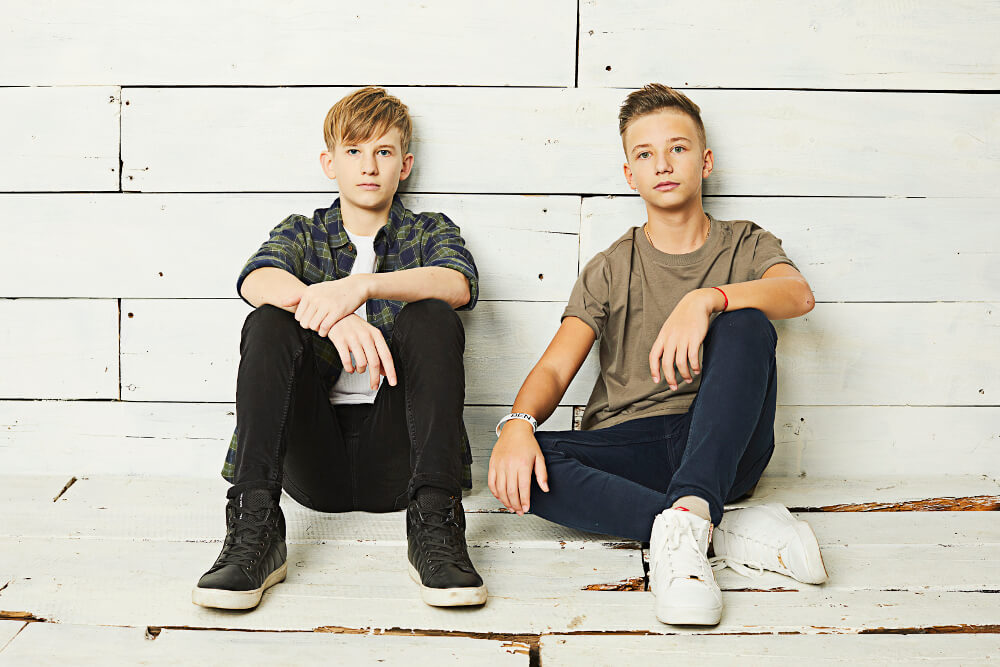 Pre popovú tvorbu Bena a Matea je charakteristická pozitívna energia, vďaka čomu si chlapci získavajú stále viac fanúšikov a darí sa tiež ich klipom, ktoré zbierajú desaťtisíce až státisíce vzhliadnutí, čo je pre novovzniknutú hudobnú formáciu vydarený štart. "Náš štart samozrejme veľmi zasiahla pandémia, ale aj tak je to všetko úžasné. Skvelá bola práca v štúdiu a nakrúcanie klipov, super sú tiež pódiové tréningy a celá príprava na turné s tanečnicami. Veľmi radi vymýšľame témy pesničiek – je to pre nás dôležité, musíme to byť proste my. Najnáročnejšie sú tie lockdowny, obmedzenia a karantény, kvôli ktorým sme v spojení s fanúšikmi iba cez streamy. Je neskutočné čítať ich reakcie. Už sa nemôžeme dočkať koncertov a reakcií na náš prvý album. Je na ňom presne polovica songov, ktoré ešte nikto nepočul, tak sme zvedaví ako sa budú páčiť. Tiež to vnímame tak, že práve tento album je veľký štart," hodnotia Ben a Mateo prvú etapu svojej hudobnej dráhy, ktorú symbolicky uzatvárajú debutovým CD.
Prvý album Bena a Matea dostal názov podľa jedného zo singlov Až ke hvězdám. Štúdiovka obsahuje 12 skladieb, pri čom presne polovicu z nich už chlapci predstavili ako single s videoklipmi a druhá polovica sú novinky, ktoré sú pre fanúšikov prekvapením. Hoci v trackliste sa nachádza aj pár anglických názvov, všetky skladby sú naspievané v češtine, ktorá je momentálne chlapcom najbližšia. Ako prezrádzajú, nebránia sa v budúcnosti skúsiť aj tvorbu a spev v angličtine.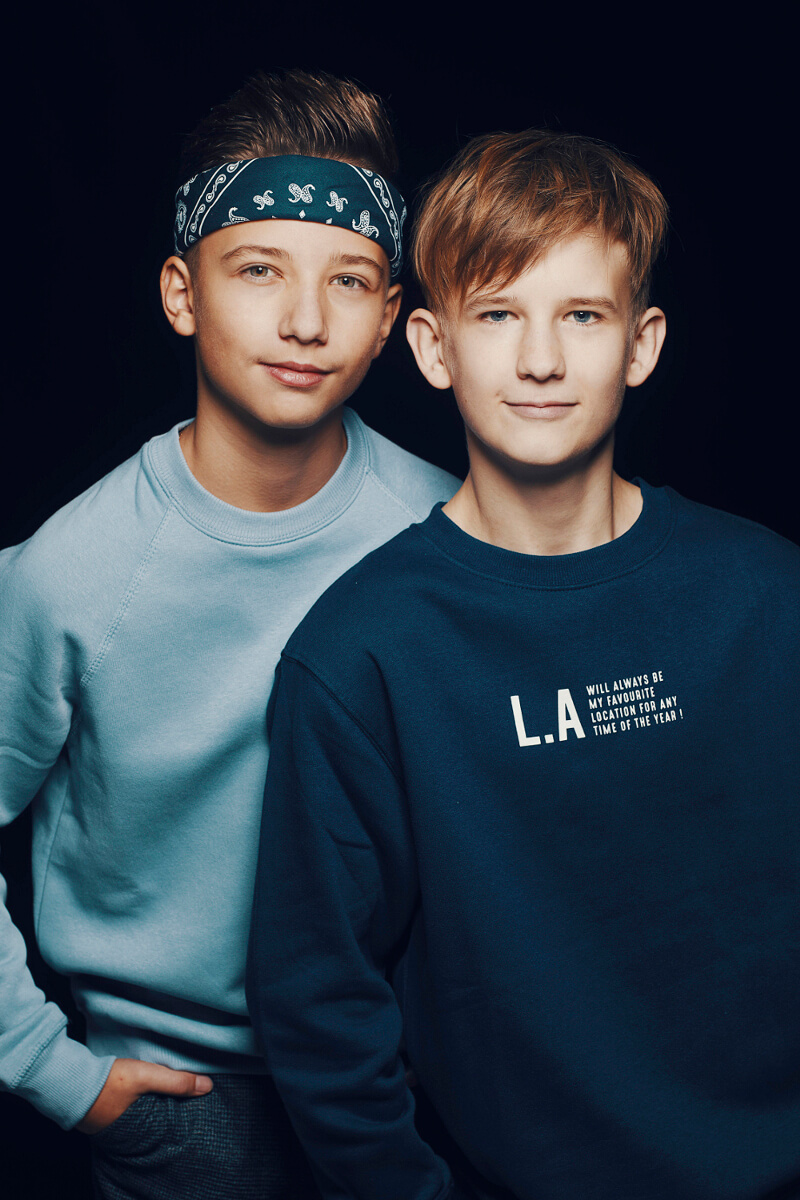 Na debutovom albume chlapčenského dua Ben&Mateo sa podieľali viacerí producenti. Prvý singel Jsi moje star vznikal v slovenskom štúdiu Littlebeat v produkcii Martina Maxa Šrámeka a text k nemu napísal Matěj Vávra. Pesničky Až ke hvězdám, Online, Spolu přes barikády, Kouzelná, Beze slov, Beamer girls, Spolu ve dvou a Díky vznikali v štúdiu u Ondřeja Žatkuliaka. Posledný singel SWIPE UP mal po hudobnej stránke v réžii vnuk frontmana kultovej kapely Olympic Petr Janda najmladší, text napísal známy český influencer Patrik Jareš (PJAY) a nahrávalo sa u Štěpána Bártu v Unbeatable Records. "Na všetkých producentov máme super spomienky. Maxo Šrámek na Slovensku bol úplne skvelý, počas nahrávania sme si užili veľa zábavy, veľmi radi sa vrátime. U Ondra Žatkuliaka sme nahrali najviac songov a práca bola úžasná – Ondro s Danom Vrbom sú skvelí ľudia a profíci. Urobili sme aj song s Petrom Jandom najmladším, cover Kdo ví pre nás robil Martin Hájek, to je ďalší super človek, ku ktorému sa radi vrátíme," spomínajú chalani na jednotlivé produkcie a nahrávania.
Aktuálne spoločne trénujú na svoje prvé koncertné turné, v rámci ktorého album predstavia naživo v Prahe, Brne, Ostrave, Plzni, Českých Budějoviciach, Liberci a Pardubiciach. Kvôli pretrvávajúcim protipandemickým opatreniam zatiaľ nie sú jasné finálne dátumy koncertov, no vstupenky na jednotlivé vystúpenia sú už v predaji na webstránke: https://www.benamateo.cz/ a v spoločnosti Ticketportal.
Ben a Mateo sú bezpochyby veľmi aktívna mladá formácia, čím potvrdzujú, že nechcú byť len krátkodobou senzáciou – naopak postupne si poctivo budujú stabilné miesto na popovej scéne. Dokazujú to aj tým, že hoci len v týchto dňoch posielajú do sveta debutový album, už teraz súčasne pracujú na nových skladbách. Po sérii niekoľkých predošlých singlov, ktoré zverili českej produkcii, sa opäť vracajú k produkcii slovenskej – aktuálne totiž pripravujú dve pesničky v spolupráci s Tomim Popovičom.
Album Až ke hvězdám oficiálne vychádza 15. apríla a je predaji na benamateo.store, kde majú fanúšikovia príležitosť objednať si ho aj s podpismi.
Tracklist albumu
Až ke hvězdám
Online
Kdo ví

Jsi moje star
Spolu přes barikády

Kouzelná
Swipe up

Beze slov

Jsi úžasná

Beamer girls

Spolu ve dvou

Díky
Single a videoklipy Bena & Matea
Beze slov – 647 000 vzhliadnutí – https://www.youtube.com/watch?v=61BJttn4HNk
Jsi moje star – 400 000 vzhliadnutí https://www.youtube.com/watch?v=hU3OhfD2kjU
Až ke hvězdám – 310 000 vzhliadnutí https://www.youtube.com/watch?v=L7_3OSJ6pDc&t=95s
Kdo ví – 91 000 vzhliadnutí https://www.youtube.com/watch?v=TNe0a94esaE
Swipe up – 146 000 vzhliadnutí https://www.youtube.com/watch?v=hMM9N2FFXmc
Web: www.benamateo.cz
Instagram: www.instagram.com/benandmateo/
Facebook: www.facebook.com/benamateo
Zdroj: SOUL FOR SHOW