Americká thrashmetalová legenda ATROPHY z bájných osmdesátých let se po dlouhých 30 letech vrací do České republiky, aby zas nakopla již občas vynechávající srdce starců a kinder thrasherům naopak podala důkaz o skutečné nesmrtelnosti, který ka

ž

dá mladá generace bezpodmínečně potřebuje!
ATROPHY se zrodili v roce 1986 v prachu arizonského městečka Tucson a za svých plodných 5 let existence vydali dvě zásadní alba ("Socialized Hate" z 1988 a "Violent by Nature" z 1990), jež se staly nedílnou součástí světové thrashové pokladnice, která je neustále a bez uzardění vykrádána jak Cheopsova pyramida v Gíze.
Na začátku devadesátých let se kapela víceméně rozpadla, o to víc potěšil její návrat na pódia a přípravy na novou desku. Na nadcházejícím evropském turné je doprovodí u nás oblíbení izraelští džískaři BLACK SACHBAK, kteří se loni vyprsili s novou deskou "Black Sachbak vs. the Future".
ATROPHY / BLACK SACHBAK
22. 3. 2020 – Praha, Modrá Vopice
FB event: https://www.facebook.com/events/427269614590022
e-TICKET: https://obscure.cz/cs/tickets/detail/id/308
ATROPHY
new song 2020 https://youtu.be/HuFUN21It9k
https://youtu.be/Wt378Aw6Fsk
https://youtu.be/PENgwbzkXjs
Violent by Nature https://youtu.be/KAa6fSQ0ITo?list=PLB9757F544ADFB9A3
BLACK SACHBAK
https://youtu.be/FmkSts6PnsA
https://youtu.be/jz7JdPPI8rc
https://youtu.be/LY2IyCVFtdA
Předprodej viz výše, dále pak v síti Ticketmaster a na předprodejní kase v Lucerna Music Baru.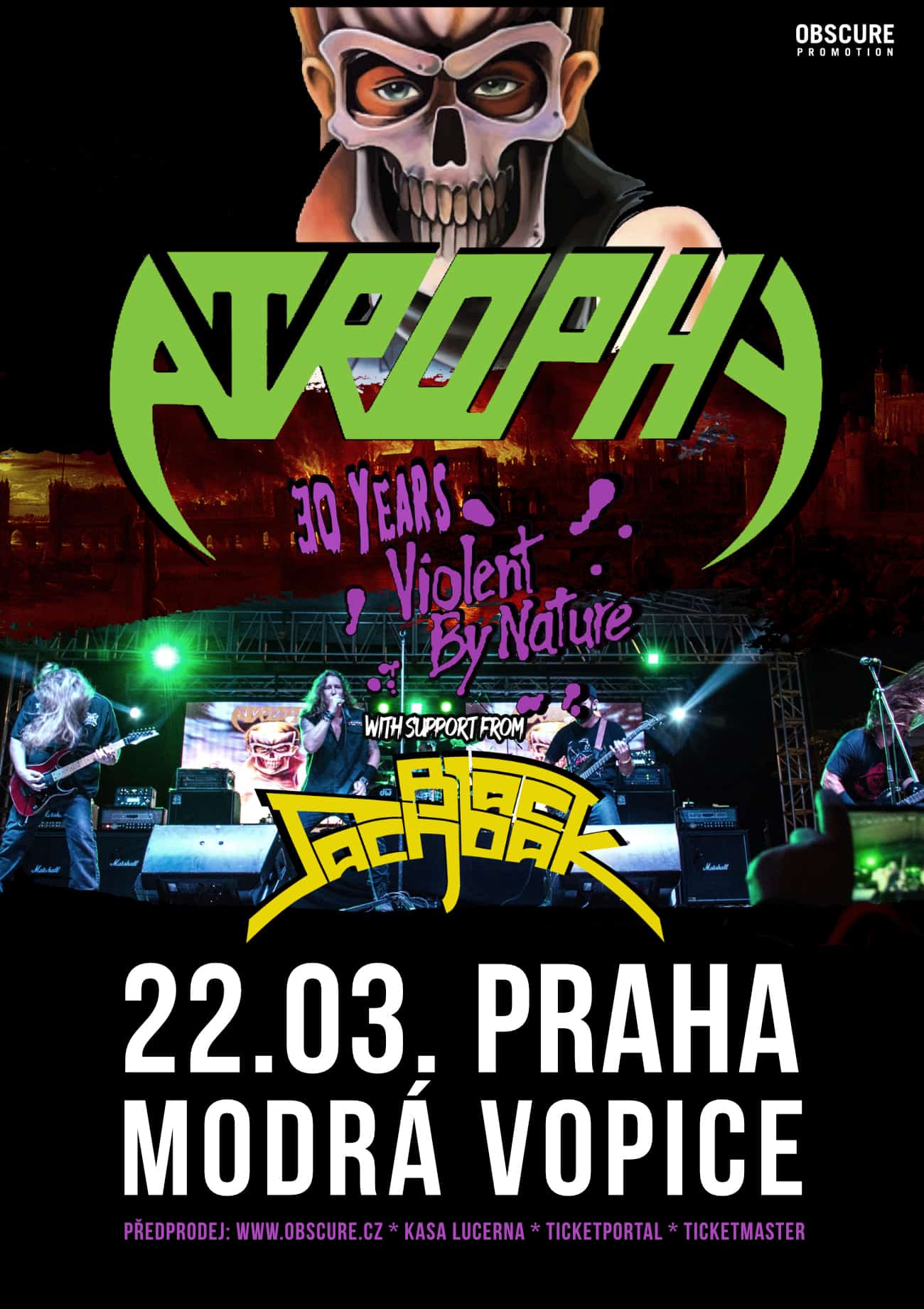 Zdroj: Obscure Promotion