Oslavu nedožitých sedemdesiatych narodenín Mira Žbirku odštartuje nový videoklip, prvý československý album v Dolby Atmos, vinyl, výstava v Národnom múzeu v Prahe a séria spomienkových koncertov.
Prípravy na oslavu odkazu československej hudobnej legendy Mira Žbirku vrcholia. Už zajtra sa bude jeho hudba a osobnosť pripomínať na koncerte v Londýne a dnes vychádza nový singel a klip z albumu Posledné veci. Po megaúspechu pesničky Nejsi sám je druhým singlom Náhodou. K skladbe s hudbou Mira Žbirku a textom Joža Urbana vznikol pútavý animovaný videoklip. V produkcii štúdia Eallin Motion Art, Filipa Filkensteina a Lukáša Skalníka, ho v réžii Davida Žbirku a Šimona Šafránka animoval Michal Sadowski.
Album Posledné veci dostáva dnes aj klasickú vinylovú LP podobu a je ako prvý v Českej a Slovenskej republike dostupný v najmodernejšom priestorovom formáte zvuku Dolby Atmos, ktorý vznikol v renomovanom pražskom štúdiu Soundsquare. To ako jediné u nás disponuje najmodernejšou technológiou, ktorou Michal Pekárek pod pozorným dohľadom producenta Davida Žbirku, dodal nahrávkam celkom nový a plastickejší rozmer. Nová priestorová verzia albumu Posledné veci je na platformách Apple Music a Tidal dostupná už dnes. Miro Žbirka, ktorý vždy sledoval nové trendy, sa tak symbolicky stal prvým československým umelcom, ktorého album vyšiel aj vo verzii Dolby Atmos.
LP Posledné veci vychádza so špeciálnym vinyl masterom z Abbey Road a kvalitne spracovaným obalom, na ktorom dokonale vynikne titulná fotografia Petra Župníka s grafickým spracovaním Jiřího Troskova. Vydavateľstvo OPUS vydá 14. októbra 2022 prvých sedem albumov Mira Žbirku v LP boxe Opus Collection 1980-1990.
Už zajtra sa rozbehne prvý zo série troch spomienkových koncertov Tribute to Miro Žbirka 70. V londýnskom klube 229 Venuebudú hudobný odkaz československej legendy oslavovať: Dan Bárta, Kuly, David Žbirka, Peter Bič Projekt, Petr Čech, Martha, Sima Magušinová, David Kraus, Rob Cass, Nina Kohut, Lenny a Tamara Kramar.
Hudobná pocta bude pokračovať na koncertoch v Bratislave (17.10.2022 – NTC Aréna) a v Prahe (21.10.2022 – O2 Universum). Playlist z koncertov Mira Žbirku zahrá jeho skupina a legendárne hity budú spievať: David Žbirka, David Koller, Peter Nagy, Katarína Knechtová, Bára Basiková, Michal Hrůza, Jana Kirschner, Michal Malátný, Ráchel Skleničková, Albert Černý, Lenka Filipová, Adam Ďurica, Marta Jandová, Slza, Matěj Ruppert, Jiří Macháček, Lukáš Adamec, Martha, Lenny, Peter Bič Project, David Kraus, Petr Fiala, Petr Ostouchov, Petr Marek a Karin Ann. Pre divákov je pripravených aj niekoľko veľmi príjemných prekvapení.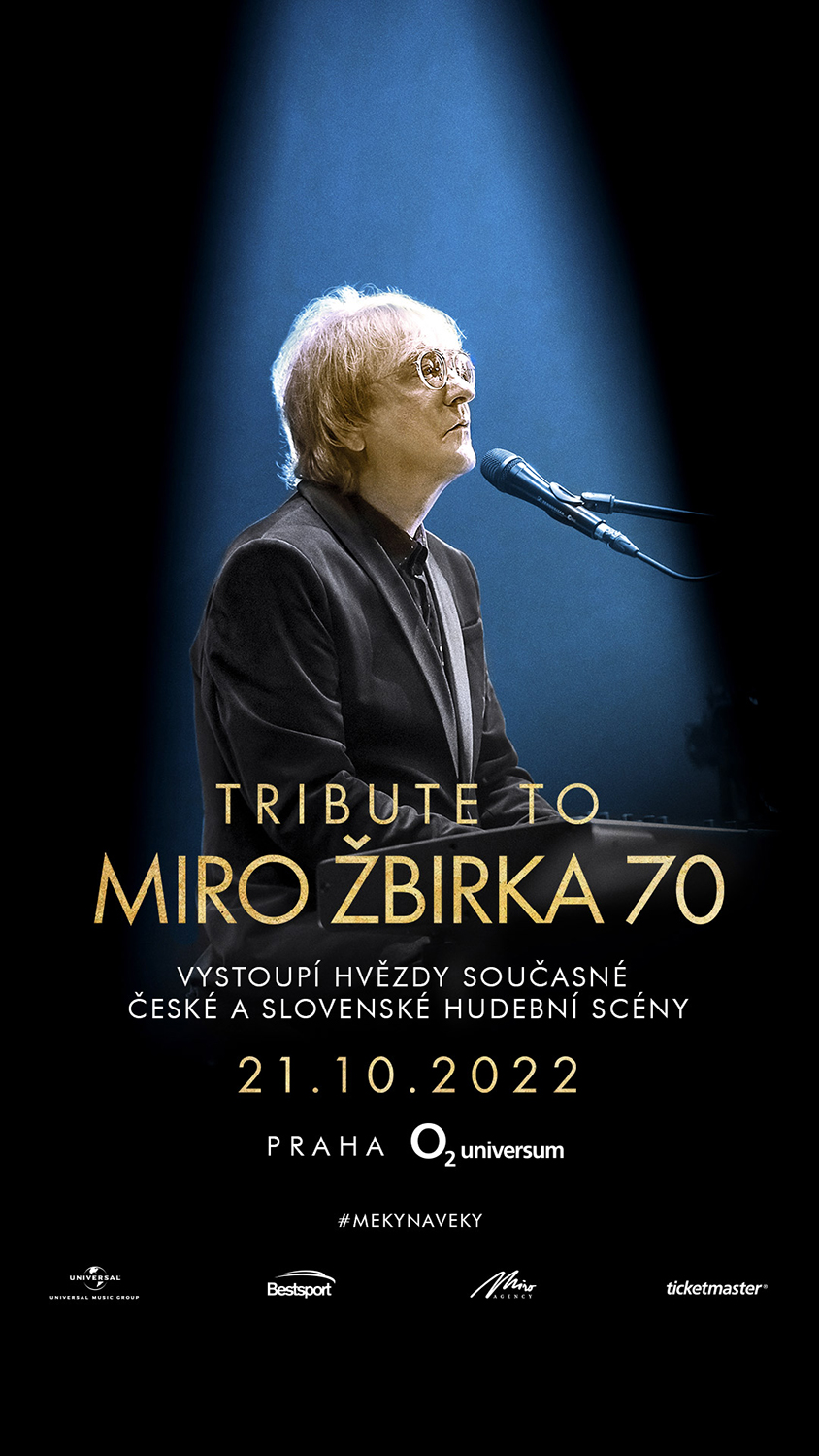 Obidva koncerty sú takmer vypredané, v predaji zostáva už len pár posledných vstupeniek.
V historickej budove Národného muzea v Prahe na Václavskom námestí sa už inštaluje výstava o živote a diele Mira Žbirku. Po slávnostnej vernisáži (19.10. 2022) bude pre verejnosť otvorená od 20.10.2022 do 1.1.2023. Počas januára sa presťahuje na Bratislavský hrad, kde bude prístupná od februára 2023.
Predpredaj vstupeniek na koncerty Tribute to Miro Žbirka 70:
Bratislava: https://www.ticketportal.sk/event/TRIBUTE-TO-MIRO-ZBIRKA-70
Praha: https://www.ticketmaster.com/tribute-to-miro-zbirka-70-tickets/artist/2854119
https://www.zbirka.cz
https://www.facebook.com/MiroZbirka/
https://www.instagram.com/mirozbirka/

Zdroj: pro:messa