Slovenská dedina prosperuje spoločne s Rómami, ktorým sa kedysi vyhýbala. Tak znel nadpis reportáže o Spišskom Hrhove na titulnej stránke svetových novín The New York Times 3. októbra 2018. Meno najznámejšej dediny na Slovensku obletelo svet a obec neďaleko Levoče sa stala príkladom skvelého spolunažívania väčšiny s menšinou. Je komunita ľudí v tejto "superdedine" naozaj taká harmonická, ako sa všade píše a hovorí?
Dnes prichádza do kín dokumentárna komédia režisérky Vladislavy Sárkány To ta monarchia. "Keď ma kolega poprosil o pomoc pri práci na malom videu o Spišskom Hrhove, údajne skvelej a prosperujúcej dedine s úžasným starostom, ktorý dokonca úspešne integruje Rómov do majoritnej bielej komunity – využila som túto príležitosť. Chcela som sa sama presvedčiť, koľko je na mediálnom obraze pravdy a čo sa za týmto príbehom skrýva. Ak to v Hrhove skutočne tak dobre funguje, je tento model dediny prenosný? A keďže som videla, že príbeh tejto malej obce má potenciál odkrývať a zrkadliť celospoločenské problémy našej krajiny, rozhodla som sa o hrhovskom fenoméne nakrútiť autorský film," vysvetľuje režisérka, scenáristka a producentka filmu Vladislava Sárkány.
Snímku nakrúcala časozberným záznamom v priebehu rokov 2015 až 2019 v komornom štábe, čo umožnilo priblížiť sa k protagonistom a protagonistkám a autenticky zaznamenať celé spektrum emócií a názorov. Filmové dielo tak ponúka originálny pohľad na slovenskú dedinu 21. storočia bez obvyklého zjednodušovania a stereotypných charakterov.
"Film nie je len sondou do sociálnych vzťahov malej skupiny obyvateľov obce, ale tiež hľadaním odpovedí na otázky: Aké je moje miesto v spoločenstve či v komunite, v ktorej žijem? Akú mám možnosť ja ako jednotlivec aktívne meniť a tvoriť spoločnosť či krajinu? Aké prostriedky mám v rukách, a aké sú možnosti sa realizovať? Akou mierou som zodpovedný za to, aby sa žilo dobre mne a akú zodpovednosť mám voči ľuďom navôkol?" hovorí Vladislava Sárkány.
Hlavným protagonistom snímky je svojrázny Vladimír Ledecký. Spišskému Hrhovu úspešne vládol metódou "cukor a bič" 21 rokov, podarilo sa mu sfunkčniť všetky obecné budovy, školy, vybudovať obecnú firmu, dať ľuďom prácu, umožniť Rómom postaviť si vlastné domy. Dedina pod jeho vedením svojím chýrom prekročila hranice Slovenska, získala mnoho ocenení, vrátane Ceny EÚ za rómsku inklúziu.
"Na Slovensku každý starosta stavia vodovod a kanalizáciu a pokladá to za najdôležitejšie. Pre nás je najdôležitejšie, keď budú ľudia, ktorí tu žijú, šťastní a spokojní," hovorí vo filme Vladimír Ledecký. Jeho roly sú premenlivé, jeho hlavným cieľom je vybudovať miesto, kde sa žije všetkým lepšie: starousadlíkom, novousadlíkom, deťom, dôchodcom, "bielym" aj Rómom. Tým sa však dostáva do centra odstredivých síl, pretože koľko ľudí, toľko názorov na inklúziu či pozitívnu diskrimináciu. Kým jeho vášeň pre včelárstvo stmeľuje usilovný hmyz v bzučiacich úľoch, jeho rola osvieteného starostu, monarchu, je omnoho komplikovanejšia.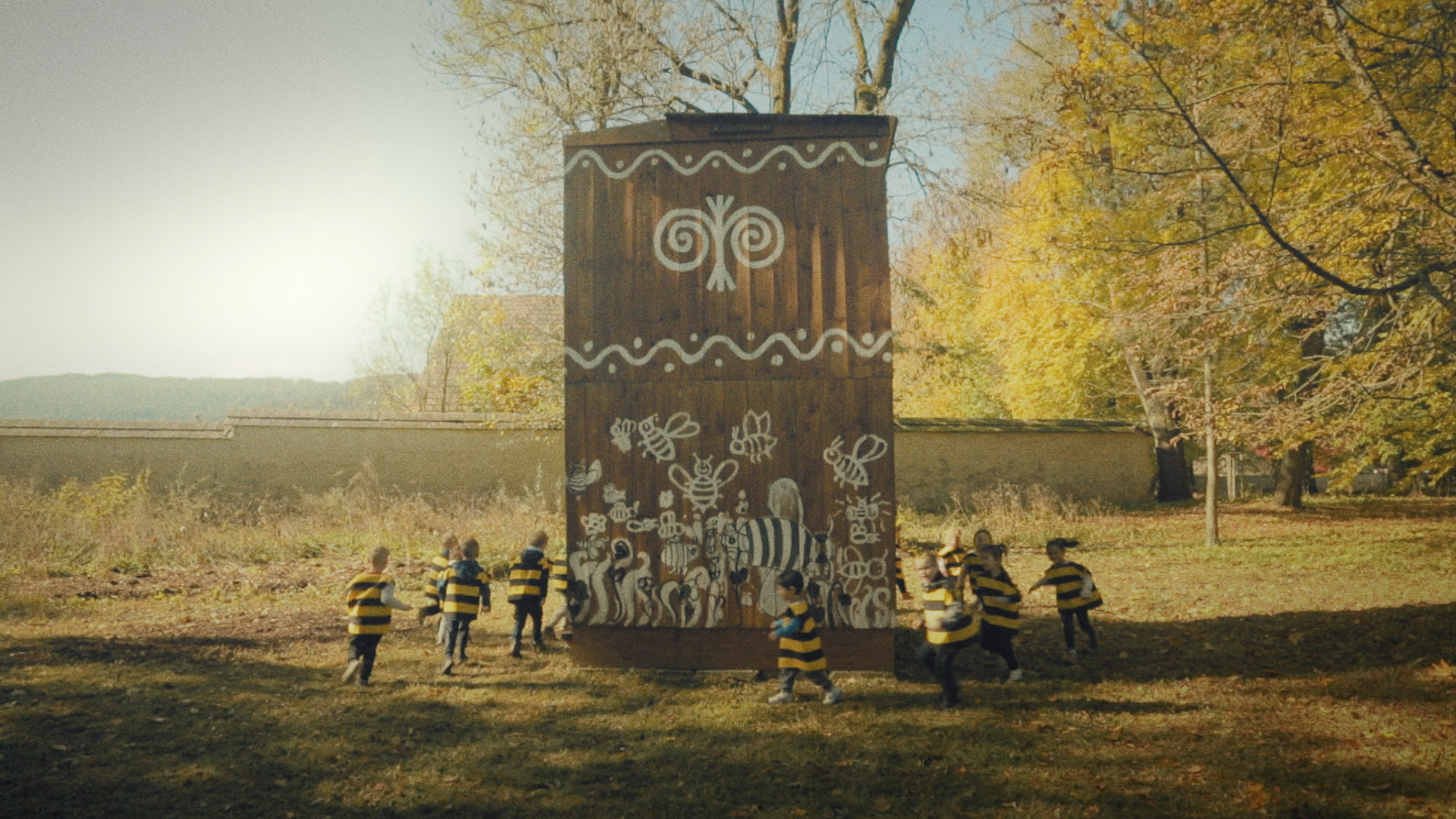 "Včely sa berú ako jedno spoločenstvo, je tam jedna matka, ktorá kladie vajíčka, ale nebyť všetkých ostatných včiel, tá matka by neprežila. A nebyť matky, neprežili by ostatné včely. A na tom istom princípe funguje rodina, dedina, štát, ľudstvo," hovorí v snímke. "Myslím si, že sme dospeli do toho štádia, že chápeme, že teória motýlích krídel – urob nejaký zásah a on sa nejakým spôsobom prenesie a ovplyvní celé ľudstvo, je pravdou," dodáva. "Čo ľudia z dediny vložia do svojho spoločenstva, taká bude jeho budúcnosť. Dúfam, že to bude láska, sila, viera v dobro, schopnosť milovať či odpúšťať, ochota rúcať bariéry a stavať cesty medziľudských vzťahov. A potom to bude dobrá dedina," hovorí Vladimír Ledecký.
Podobenstvo dokonalého včelieho spoločenstva sa vinie celým filmom ako silný vizuálny i myšlienkový motív. Nabáda na zamyslenie, či je vôbec možné ho vytvoriť medzi ľuďmi alebo budeme navždy s obdivom sledovať – pre nás nedosiahnuteľné – harmonické včelie kráľovstvo?
Okrem tejto paraboly sú hrdinovia filmu konfrontovaní s večnými témami ako ľudská malosť, pohodlnosť, pretvárka, hnev i závisť, ale aj osobná angažovanosť a snaha o lepší svet, nezištná pomoc a zdieľanie myšlienok a skúseností. "Zaujala ma miestna klíma tak odlišných ľudí, ktorých spájalo čosi veľmi človečenské – úprimná viera v dobro a osobná snaha zmeniť stav vecí. Vo filme však víťazoslávnu odpoveď na otázku: "Aká by mala byť ideálna ľudská spoločnosť?" neprinášam, nechávam divákov uvažovať samých," zdôrazňuje Vladislava Sárkány.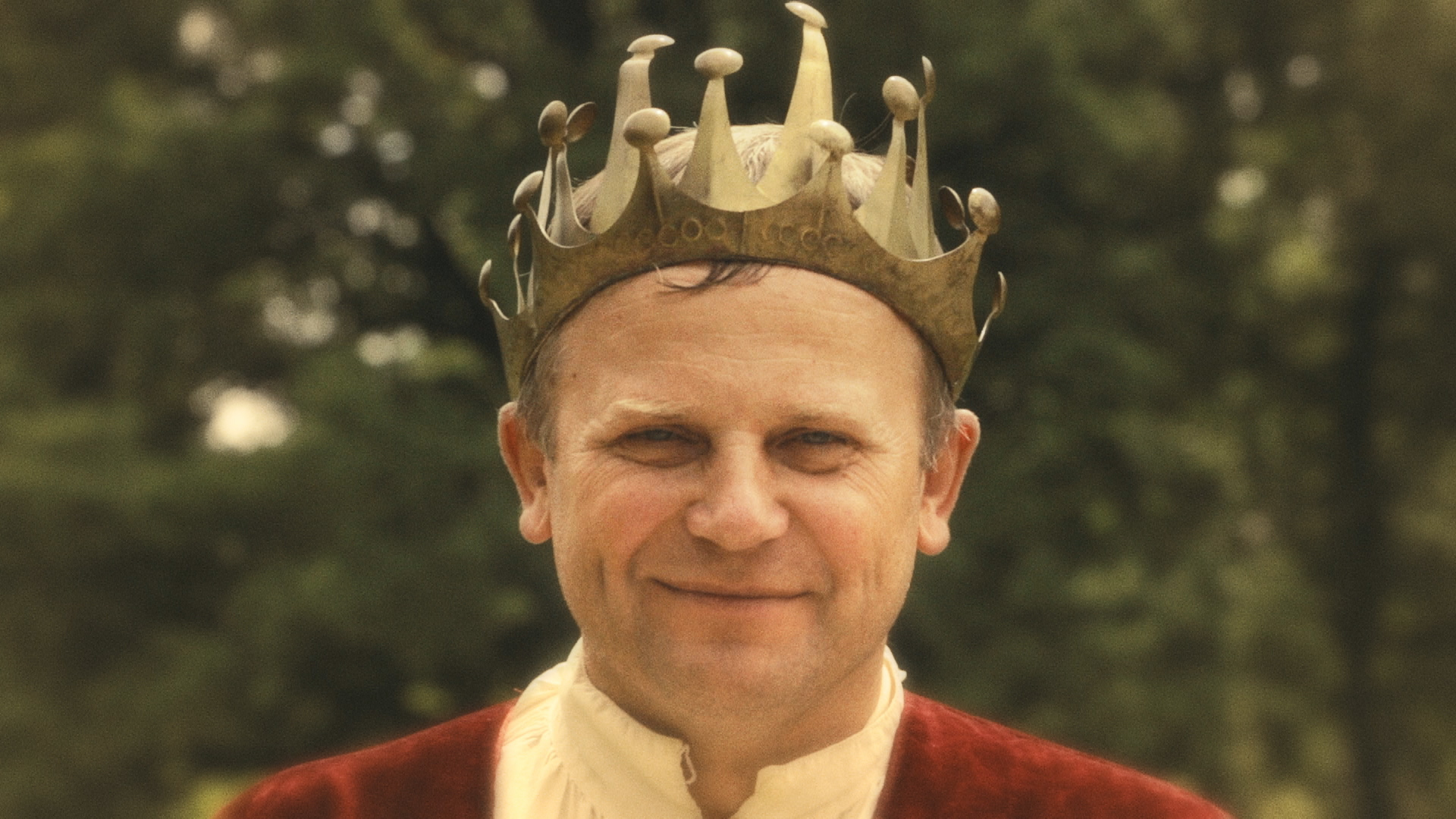 Ako uzatvára, film To ta monarchia je to sonda do príbehu obce, ktorá dosiahla svoj vrchol vďaka silnej komunite zaujímavých ľudí na čele so starostom. Lokálny príbeh Vladimíra Ledeckého sa uzavrel vstupom do politickej strany Za ľudí v roku 2018. Ale to už je iný príbeh, ktorý film nesleduje.
Tvorcovia pripravili pre verejnosť slávnostnú premiéru za osobnej účasti autorského tímu aj protagonistov filmu, dnes 15. júla 2021 v Amfiteátri v Rači. Okrem premietania pod holým nebom je prichystaný aj bohatý sprievodný program, vrátane tvorivých dielní pre deti aj dospelých, workshopov, živej diskusie či prezentácie mimovládnych organizácií, pozornosť bude upriamená aj na komunitné či ekologické témy, ktorých sa dotýka samotný film.
Pred začiatkom premietania sa uskutoční pod moderátorskou taktovkou Laca Oravca diskusia, v ktorej sa budú zhovárať hlavný protagonista filmu To ta monarchia – Vladimír Ledecký, splnomocnenkyňa vlády SR pre rozvoj občianskej spoločnosti Barbara Gindlová a riaditeľka Výskumného ústavu detskej psychológie a patopsychológie Janette Motlová. Medzi témy budú patriť aj znevýhodnené regióny, ktoré trpia odlivom mladých ľudí, vyľudnenie, nedostatok práce, rozdiel medzi lepším životom v mestách a na západe Slovenska, apatia či extrémistické tendencie, a aké sú možnosti pretnutia bludného kruhu.
PROGRAM VEREJNEJ SLÁVNOSTNEJ PREMIÉRY
https://www.facebook.com/events/158928696180004
Do kín mieri To ta monarchia od 15. júla 2021 vďaka distribučnej spoločnosti Asociácia slovenských filmových klubov. Film plánujú tvorcovia uviesť počas leta aj na viacerých outdoorových projekciách v amfiteátroch, do niektorých miest zamieri osobne režisérka aj protagonisti filmu, aby s ľuďmi z rôznych kútov Slovenska hovorili o otázkach, ktoré film kladie.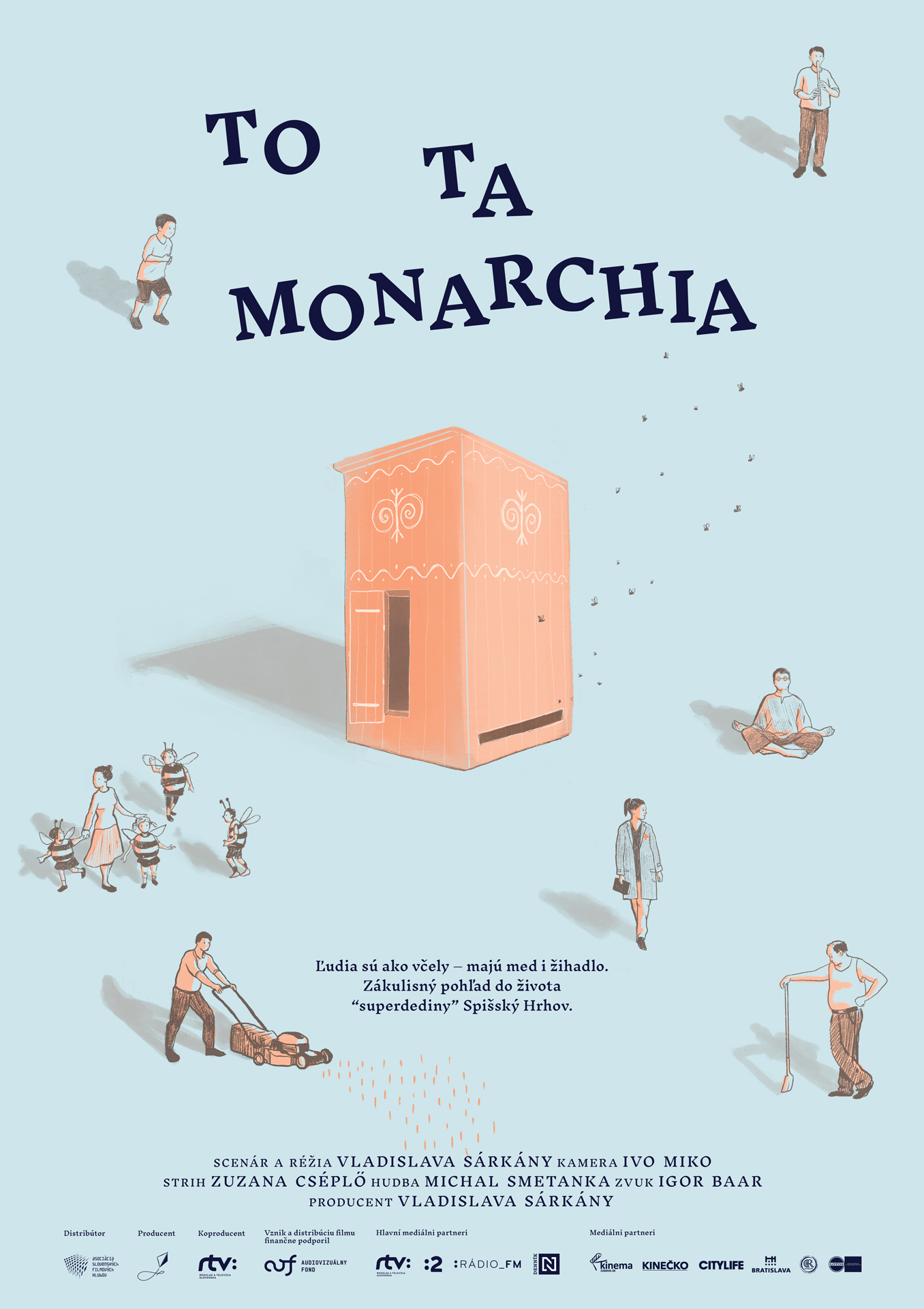 Zdroj: TS