Koncom roka 2021 vydal album Naše Hriechy, z ktorého rovnomenná skladba, duet s Emmou Drobnou patrí k najhranejším slovenským piesňam v rádiách.
Do roku 2022 vstupuje s novým videoklipom, ktorý sa natáčal v Prahe s renomovaným režisérom videoklipov Ondřejom Kudynom.
"Veľakrát som už hovoril o novej etape vo svojej tvorbe, a toho som sa snažil držať aj pri tomto videu" hovorí Adam Ďurica. "Mal som o ňom určitú predstavu, a chcel som aby sme urobili klip, ktorý by bol odlišný o tých čo sme robili doteraz, pridať skladbe aj silnú vizuálnu podobu. Preto som oslovil Ondřeja, ktorého klipy či už pre Mirai, a ďalších sa mi páčili. Už pri je ho prvotnom návrhu som bol spokojný, cítil som, že to bude fungovať. Natáčali sme od rána do neskorého večera na rôznych miestach v Prahe, vonku boli 4 stupne, a ja som pobehoval len v košeli. Menili sme lokácie, bolo to naozaj akčné."
" Som veľmi rád, že došlo k tejto spolupráci. Mojim cieľom je vytvoriť vizuál, ktorý emočne umocní skladbu. Rád jej dávam ten obrazový život. Vymysleli sme námet, ktorý nám okamžite zarezonoval, a spoločne s Adamom sme ho dotiahli do tejto podoby. Nebolo to je produkčne jednoduché, mali sme asi 5 rôznych miest, oheň, komparz, ale všetko išlo podľa plánu. Tiež musím povedať, že Adam podal skvelý herecký výkon. Nie je jednoduché natáčať medzi ľuďmi okolo" hovorí režisér OndřejKudyn.
"Musím povedať, že som s výsledkom spokojný. Opäť nová spolupráca, nový ľudia, nový spôsob natáčania, zábery atď. To je vlastne to čo nás posúva ďalej" hodnotí na záver Adam Ďurica.
Skladba Fúkame vychádza aj ako ďalší singel z albumu Naše Hriechy. Najbližšie sa Adam predstaví na koncerte v Prahe 20.4.a tiež 21.4 v Brne.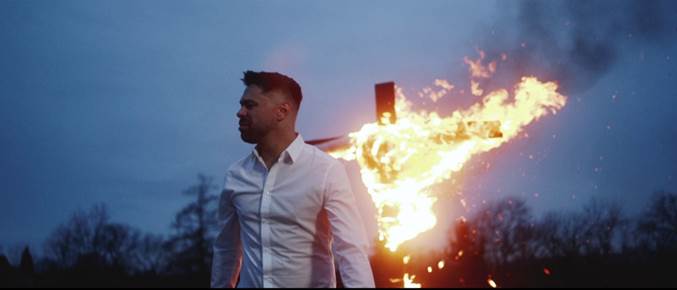 Adam Ďurica – Fúkame
https://adamdurica.lnk.to/fukame
Music by Adam Ďurica
Lyrics by Peter Riava
Produced by Matej Turcer
ISRC: SK-A01-21-00253
Director, DOP, Editor: Ondřej Kudyn
Producer: Kryštof David
Script / Idea Maker: Marie Stará
Created by Native Films
Produced by YUMMY YUMMY s.r.o.
2022 Universal Music
Zdroj: TS