Po minuloročnom úspechu vystúpenia DJa Boba sa organizátori rozhodli pripraviť druhé pokračovanie festivalu 90's Super Fest. V sobotu 27. mája 2023 uvidia návštevníci Amfiteátra v Nitre to najlepšie z 90. rokov v podaní interpretov ako 2 Unlimited, Haddaway, Twenty 4 Seven feat. Stay C & Kelly, Captain Jack, S.T.S.B. fka Fun Factory a LayZee fka Mr. President.
"90. roky sú pre mnohých symbolom farebných a výrazných videoklipov, rytmických a tanečných melódií ako aj skvelej nálady na diskotékach a podujatiach. Tento pocit je stále veľmi intenzívne zakorenený a pravidelne sa nám potvrdzuje, že priniesť overené hity fanúšikom je vždy tým správnym rozhodnutím," hovorí organizátor festivalu Štefan Zelenay. Okrem hlavných hviezd podujatia sa diváci môžu tešiť na Oldies párty Rádia Vlna s moderátormi Dobrého rána Dominikou Dadíkovou a Martinom Chynoranským, vystúpenie, workshop a tanečná rozcvička Ladislava Cmoreja Flitre v rytme a ďalšie prekvapenia.
Všetci interpreti druhého ročníka 90's Super Festu patrili v 90. rokoch k špičke hudobnej produkcie danej dekády a ich skladby sa pravidelne umiestňovali na popredných miestach viacerých relevantných rebríčkov v Európe. Bezpochyby najväčším hitom belgicko-holandskej eurodance skupiny 2 Unlimited je skladba No Limit, ktorá vyšla v januári 1993 z ich druhého štúdiového albumu. Je to jedna z najznámejších eurodance skladieb a aj vďaka predaju 2,8 milióna kópií sa stala celosvetovým hitom. Na streamovacej službe Spotify má dnes viac ako 84 miliónov vypočutí a takmer rovnaké číslo svieti aj pri videoklipe na YouTube.
Holandskú formáciu Twenty 4 Seven preslávili najmä ich hit single I Can't Stand It, Are You Dreaming, Slave To The Music, Is It Love či Take Me Away. Na festival 90's Super Fest prídu v zostave Ruud van Rijen, Hanks, Jacks, Nance, Stay-C a Kelly. Počas roka 2023 je to zatiaľ ich jediné plánované vystúpenie na Slovensku.
"Začala sa sezóna 2023. Chceme vás vidieť na 90's Super Feste. Bude to skvelá zábava, veľa umelcov. Ale pamätajte! Je iba jeden Captain Jack, party maker 90. rokov. Vidíme sa čoskoro,"pozýva na podujatie Bruce Lacy z formácie Captain Jack. Tá, podobne ako mnohé projekty 90. rokov, prešla niekoľkými zmenami v rámci obsadenia, avšak hity ako Captain Jack, Drill Instructor, Together and Forever či Soldier Soldier aj dnes dokážu roztancovať masy.
"Rád by som vás pozval na 90's Super Fest, ktorý sa uskutoční 27. mája 2023 v Nitre. Budem tam s množstvom mojich kamarátov a už sa neviem dočkať, kedy vás tam uvidím," povedal vo videopozvánke na festival LayZee a.k.a Mr. President. "Bude tam veľa veľkých umelcov 90. rokov, veľa veľkých mien a veľa veľkých hitov. Budem tam spolu s Kelly z Capella, ktorá nahradí Li-Ann. Bude to skvelá šou a jeden z prvých koncertov v tejto formácii. Mali by ste tam byť. A pamätajte, že vás mám rád a veľmi mi chýbate. Rád vás opäť uvidím," povedal pre návštevníkov Stay C z formácie Twenty 4 Seven. Dôvod, prečo prišlo k zmene na poste speváčky, patrí k tým najkrajším. Li-Ann krátko po oznámení svojho tehotenstva ohlásila na leto svoju materskú dovolenku.
Vstupenky na 90's Super Fest sú k dispozícii v sieťach Goout a Maxiticket.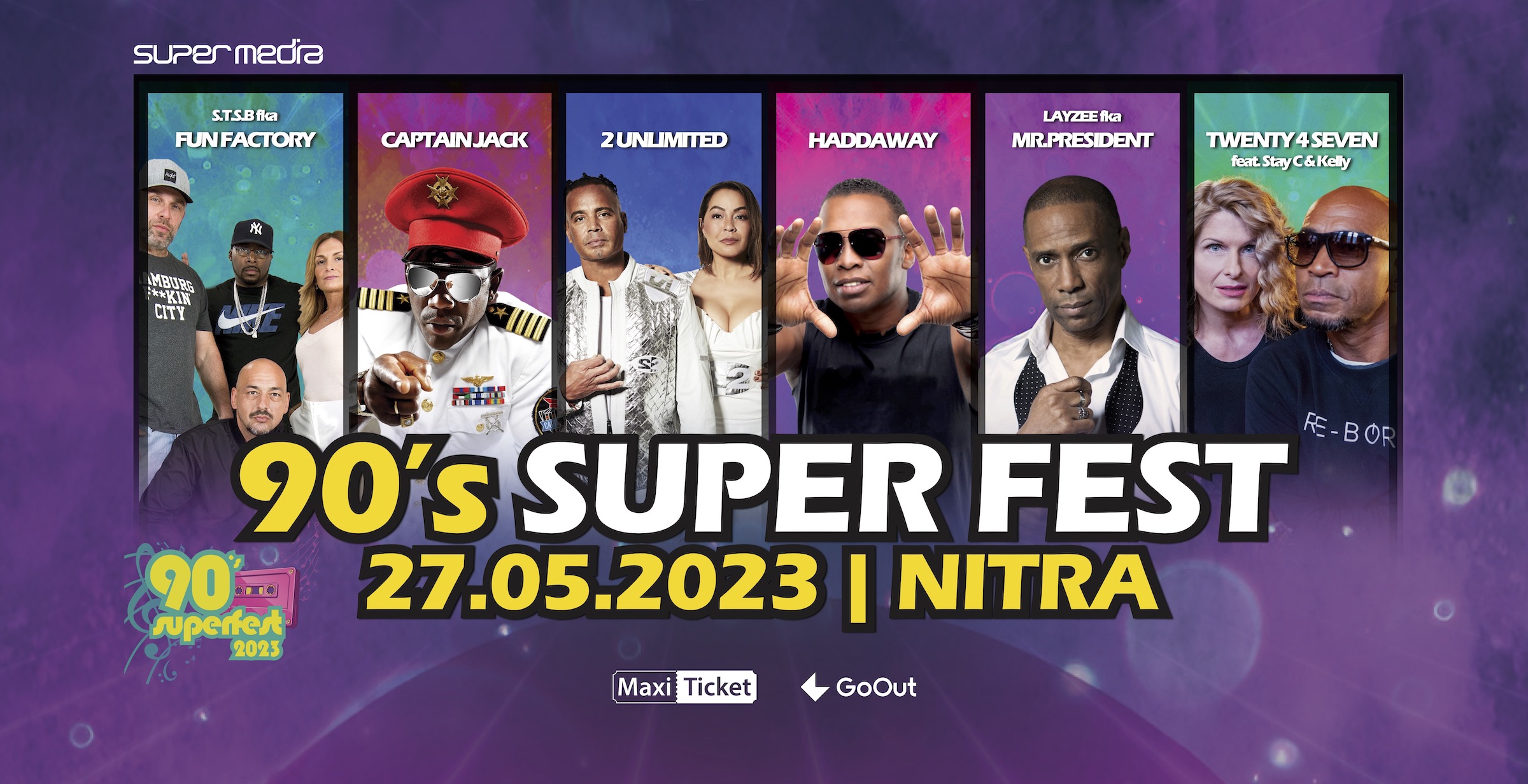 Zdroj: TS