Skvelá správa pre milovníkov kvalitnej domácej kinematografie: Medzinárodný filmový festival Cinematik Piešťany otvorí svoj 16. ročník novým celovečerným filmom režiséra Petra Kerekesa Cenzorka. Film, ktorý vznikol v slovensko-česko-ukrajinskej koprodukcii, bude mať svetovú premiéru začiatkom septembra na 78. ročníku prestížneho MFF Benátky. Na Cinematiku, ktorý sa tento rok uskutoční od 14. do 19. septembra, bude mať len o niekoľko dní neskôr Cenzorka svoju slávnostnú slovenskú premiéru.
Mladá Lesja v záchvate žiarlivosti zavraždila svojho muža. Hoci bola v tom čase tehotná, trest ju neminul. V odeskej väznici na juhu Ukrajiny si má odsedieť sedem rokov. Práve tam stretáva osamelú operačnú dôstojníčku Irinu, ktorá je v nápravnovýchovnom zariadení poverená obzvlášť chúlostivou povinnosťou: Ako profesionálna cenzorka musí čítať a kontrolovať všetku korešpondenciu medzi odsúdenými a ich rodinou, priateľmi, ale aj ľúbostnými partnermi. Osudy dvoch diametrálne odlišných žien sa prepletajú, keď Lesja po neúspešnej žiadosti o podmienečné prepustenie bojuje o to, aby jej syn Kolja neskončil v detskom domove.
Námet Cenzorky priniesol Ivan Ostrochovský, ktorý sa na filme podieľal ako spoluautor scenára aj producent. Pôvodne pripravovali dokument o nevšednej práci a osudoch skutočných väzenských cenzorov. Slovenskí filmári v rámci príprav navštívili hneď niekoľko ukrajinských väzníc a práve v jednej z nich stretli Irinu Alexandrovnu, skutočnú väzenskú cenzorku, ktorá vo filme stvárňuje samú seba. Podľa slov Petra Kerekesa mala byť Irina len epizódnou postavou, no príbeh single päťdesiatničky, ktorá celé dni číta ľúbostnú korešpondenciu cudzích ľudí, tvorcov zaujal natoľko, že sa rozhodli vystavať okolo neho celý film. Pre oceňovaného dokumentaristu Kerekesa to nakoniec bude celovečerný hraný debut.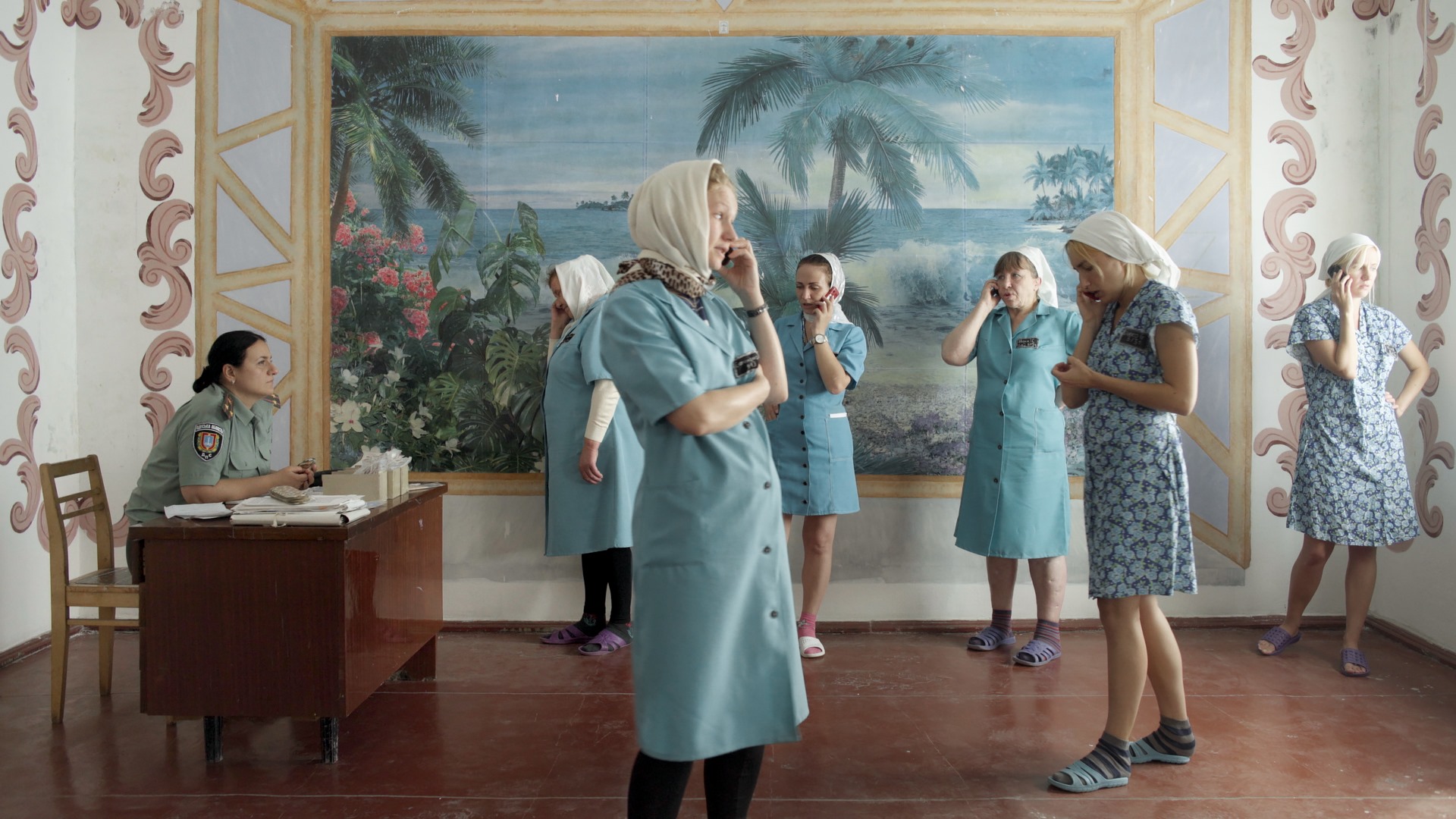 Ako mnoho ďalších projektov, aj vznik snímky Cenzorka poznačili komplikácie spojené s celosvetovou pandémiou. Keďže sa na filme podieľal medzinárodný tím vrátane ukrajinských protagonistiek či nemeckého strihača, jeho produkcia sa preťahovala a dokončenie či premiéra boli dlho v nedohľadne. O to viac teší, že sa film napokon už čoskoro dostane nie len k domácim divákom, ale aj k návštevníkom a porote jedného z najdôležitejších filmových podujatí na celom svete – Medzinárodného filmového festivalu v Benátkach. V programe jeho 78. ročníka sa Cenzorka predstaví v rámci súťažnej sekcie Orizzonti, ktorá upriamuje pozornosť na inovatívne a nové formy filmového vyjadrovania.
Snímka už počas realizácie získala ocenenia Works in Progress na Medzinárodnom filmovom festivale Karlovy Vary v roku 2017 a o rok neskôr zvíťazila ako Najlepší projekt na MFF Odesa. Film vznikol v koprodukcii Slovenska, Česka a Ukrajiny. Scenár spoločne napísali Ivan Ostrochovský a Peter Kerekes, za kamerou stál Martin Kollár.
Šestnásty ročník Medzinárodného filmového festivalu Cinematik v Piešťanoch okrem Cenzorky predstaví aj desiatky ďalších domácich a zahraničných titulov – mnohé z nich taktiež v slovenskej či svetovej premiére alebo distribučnej predpremiére. Chýbať nebudú tradičné súťaže európskych hraných filmov a domácich dokumentov, ale ani množstvo sprievodných podujatí a workshopov. Festival, ktorý svoje brány otvorí už o necelé dva mesiace, bude najväčším filmovým podujatím na Slovensku.
Akreditácie na 16. ročník Medzinárodného filmového festivalu Cinematik sú v predaji na oficiálnej stránke festivalu www.cinematik.sk.
Zdroj: Cinematik