Rok 2022 je pro festival Groove Brno obdobím oslav patnácti let působení. K narozeninám naděluje svým fanouškům první hvězdy letošního programu. Sály Metro Music Baru a Sono Centra rozhýbe funková a soulová hudba více než půlstoletí vystupujícího oaklandského ansámblu Tower of Power, newyorských Spyro Gyra a na Grammy nominované bostonské kapely Lettuce.
"Za patnáct let jsme měli tu čest stát se koncertní destinací nejedné star. Každoročně se nám podařilo několik republikových premiér jako třeba Dirty Loops, Judith Hill nebo Kennedy Administration. Troufám si říct, že jsme jediný tuzemský festival věnující se výhradně funku a soulu. Energie muzikantů a jejich fanoušků nás motivuje ke stále lepším výkonům i přes bezútěšné poslední dva roky. Jsme připraveni roztancovávat kluby třeba i příštích patnáct let,"ohlíží se za historií festivalu jeho ředitel Josef Buchta.
Sono Centrum se 9. listopadu otřese salvami tónů dechových nástrojů skupin Tower of Power a Spyro Gyra. Tower of Power se za svou více než padesátiletou kariéru stali nejen světovými legendami žánru, ale také uznávanými občany domácího Oaklandu. Místní radnice dokonce vyhlásila 31. květen dnem tohoto historicky významného tělesa. Dechová sekce formace hrála na studiových počinech Aerosmith, Erica Claptona, Eltona Johna nebo Santany. Newyorský kvintet Spyro Gyra na koncert přiváží materiál z jejich více než třiceti alb, z nichž mnohá získala titul platinových a zlatých desek.
Členové Lettuce spolupracovali s Lady Gaga či Britney Spears. Skupina, založená na půdě největší nezávislé školy soudobé hudby na světě Berklee College of Music, má na svém kontě kromě nedávné nominace na Grammy také umístění na první příčce žebříčků prestižního amerického časopisu Billboard nebo platformy iTunes. Jejich vystoupení v Metro Music Baru 8. října pro ně bude českou premiérou.
Pod taktovkou Groove Brno v minulosti navštívila Brno více než desítka držitelů ocenění Grammy. Město rozezněl také jeden z nejbližších spoluhráčů Jamese Browna a Prince saxofonista Maceo Parker. Řada z umělců na festivalu zažila svou tuzemskou či alespoň regionální premiéru. Program v minulosti nestál pouze na zahraničních jménech, zval i tuzemské špičky od B-Side Bandu s Vojtěchem Dykem nebo Ochepovsky Projectu až po Melody Makers Ondřeje Havelky.
Do konce roku chystá Groove Brno dalších osm výjimečných koncertů, program bude postupně zveřejňován. Vstupenky na festival zakoupíte v prodejní síti GoOut či na kamenných pobočkách Turistického Informačního Centra Brno.
Projekt probíhá za finanční podpory Ministerstva kultury ČR, Jihomoravského kraje a statutárního města Brna.
Youtube Tower of Power Look Into My Eyes: https://youtu.be/YAfe2RGWmtc
Youtube Tower of Power live: https://youtu.be/aNd3QE6CIL4
YouTube Lettuce Silence is Golden (nový singl): https://youtu.be/r4mlCKA0PVg
Youtube Lettuce Everybody Wants to Rule the World: https://youtu.be/YoucrL3-ZoM
Youtube Spyro Gyra studio session: https://youtu.be/UfWfZwKEZIM
Youtube Spyro Gyra live Bratislava: https://youtu.be/4urE3JOXbnE
Facebook událost 8. 10. 2022 Lettuce: https://fb.me/e/1ar3nWgwd
Facebook událost 9. 11. 2022 Tower of Power & Spyro Gyra: https://fb.me/e/1iWuYKbOd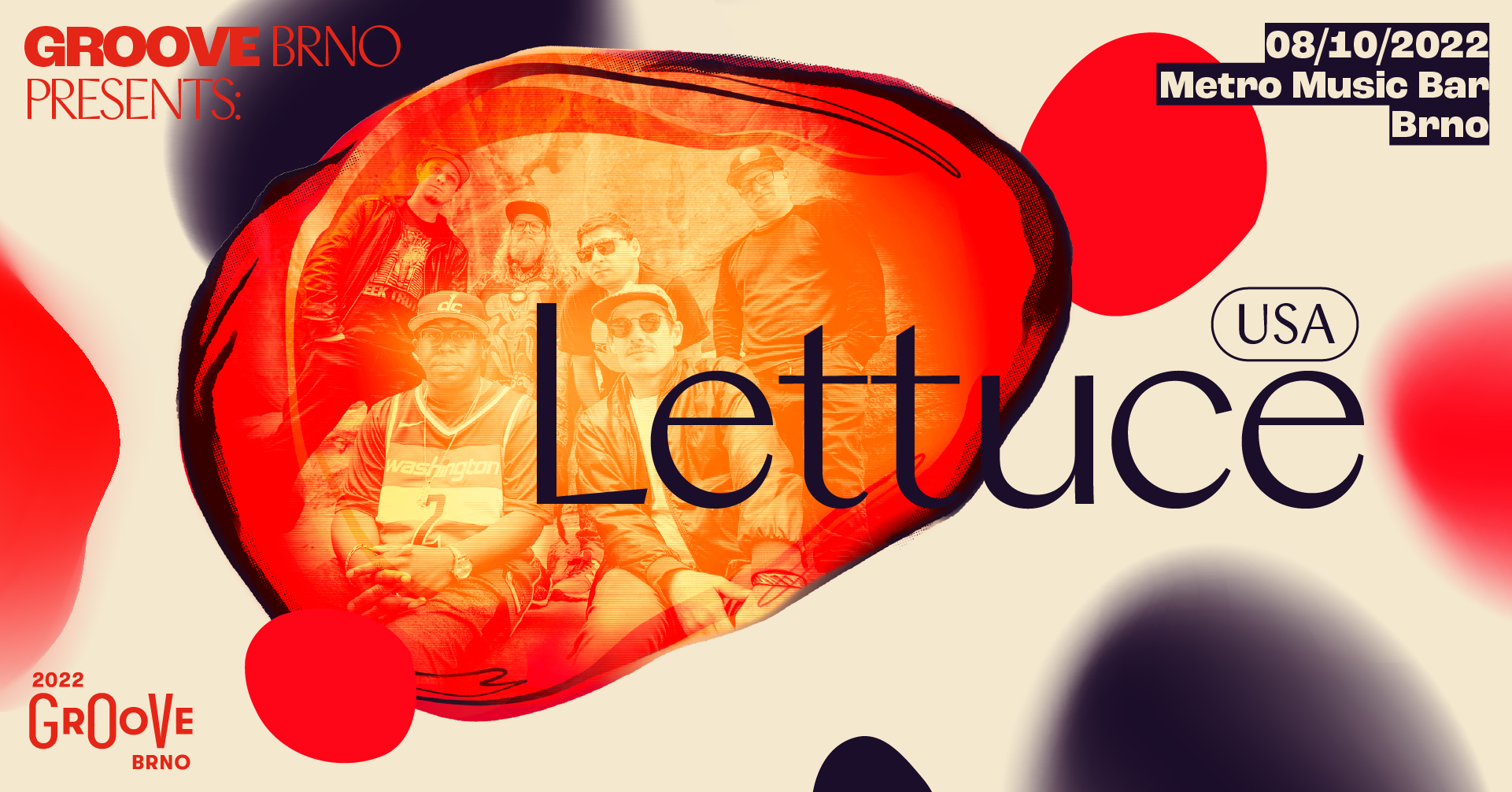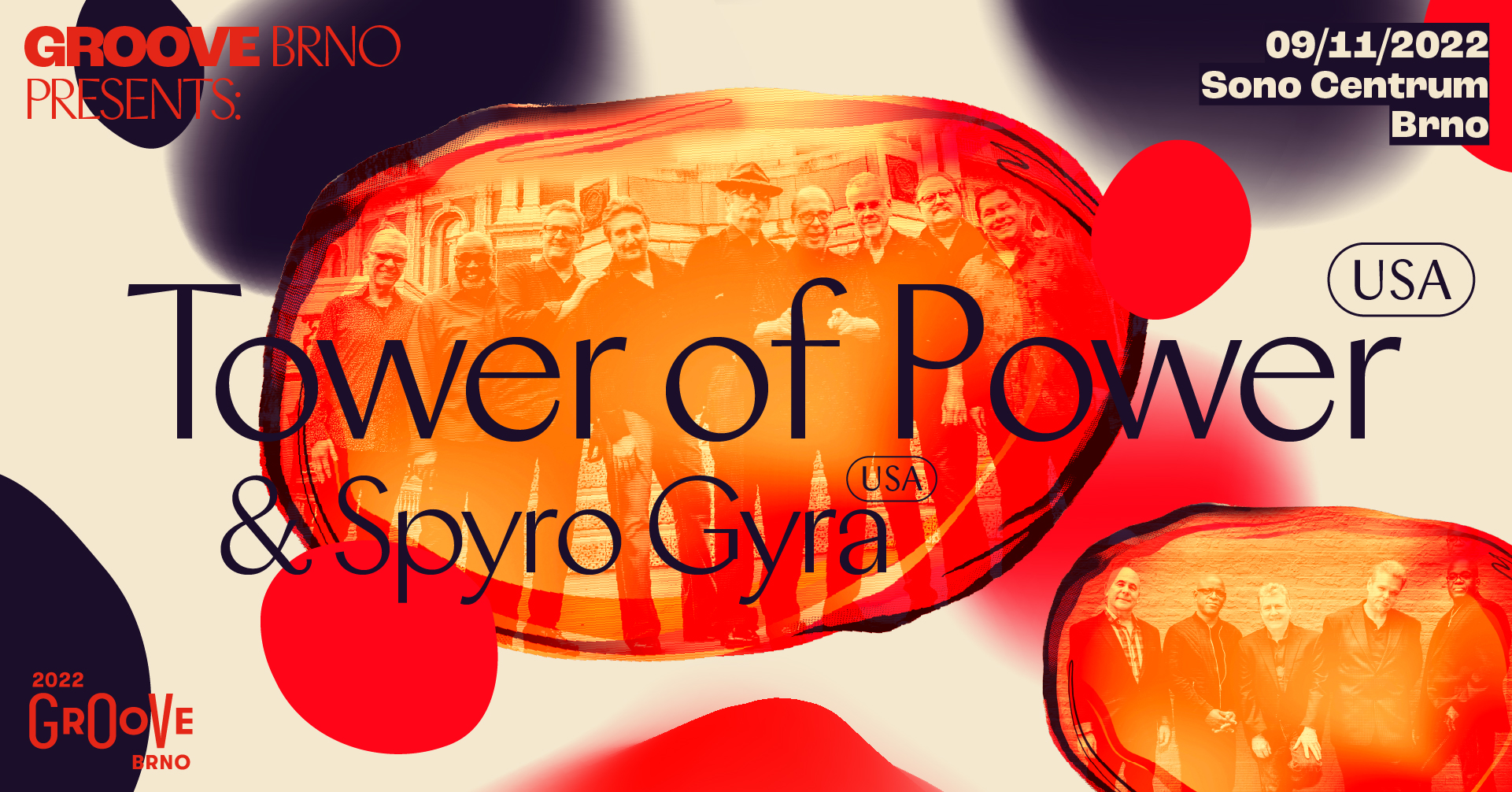 Zdroj: TS