Dobré správy pre všetkých jazzových nadšencov. V meste Brezne, v NKP Bombura, sa opäť uskutočnia Horehronské jazzové dni a ponúknu jesennú nádielku plnú výbornej, nielen jazzovej, muziky. Bude to už ich okrúhly, desiaty ročník a v sérii koncertov vám predstaví to najlepšie z lokálnej aj medzinárodnej klubovej scény.
Prvé festivalové vibrácie si budete môcť vypočuť už tento piatok 21.októbra. Organizátorov potešilo, že ich ponuku prijal fenomenálny Jiří Stivín, ktorý týmto turné oslávi svoje životné jubileum "80". Koncert bude obohatený skvelou hudobnou hostkou, ktorou bude Katarína Máliková, speváčka, klaviristka, hudobná skladateľka a producentka pochádzajúca z Brezna. Na flaute ju bude doprevádzať ďalšia rodáčka Katarína Turčinová. Zaujímavosťou a pekným momentom, je to, že obe Katky boli na koncerte Jiřího pred pätnástimi rokmi v Bombure, veľmi ich inšpiroval a teraz si s majstrom Stivínom zahrajú osobne. Koncert začína o 19:00 v breznianskej Synagóge.
Po koncerte sa festival presunie do interiéru NKP Bombura, kde bude mať svoje nástroje naladená stálica slovenskej bluesovej scény, legendárna ZVA 12-28 BAND. Ich tvorbu netreba nikomu predstavovať veď , na scéne sa pohybujú od roku 1990. Norov spev má stále nezameniteľnú farbu a výborne ho dopĺňajú, jeho brat Laco na kontrabas, Peťo Krška za bicími nástrojmi a už sedem rokov aj Stano Fakan na husliach.
Druhý hudobný blok príde na rad o týždeň 29.októbra. Celý sa odohrá v NKP Bombura. Prinesie vynikajúcu lokálnu kapelu Voľná Plocha, ktorá vznikla z potreby vlastnej hudobnej výpovede jej troch členov: Rasťa Černáka (el. gitara), Juraja Kriváňa (bicie), Rada Bútoru (basgitara). Hrajú hudbu, ktorá sa žánrovo nemá ambíciu niekam radiť, je extraktom zhody hudobného cítenia, snahy o osobitosť a radosti zo spoločného hrania.
Hneď po ich vystúpení zaujme miesto na pódiu bystrické hudobné zoskupenie Diagnoze. Mohli by sme ich zaradiť do štýlu progressive – art. Svojou tvorbou balansuje medzi rockovými a jazzovými plochami a v oboch im to to hrá veľmi kvalitne.
Úvod soboty bude patriť špeciálnej aktivite. 29. októbra prebehne ako prvý umelecký workshop so slovenským Dj- om Slowaxom. Dozviete sa o podstate Dj -ingu, čo ho definuje, o jeho histórii, predstaví vám základné pojmy, zariadenia a platformy a podstatná časť workshopu bude vyplnená praktickými ukážkami a diskusiou.
Svoju bodku budú mať Horehronské jazzové dni 2022 v sobotu 5. novembra. Rozlúčia sa s vami koncertom martinskej kapely Darkness positive. Mladí Martinčania Šimon Švidraň (gitara, spev), Adrián Simonides (basgitara) a Matej Richtarčík (bicie a sampler) oslovujú publikum nekompromisnou modernou hudbou s vlastnou tvárou a názorom so žánrovým presahom do jazzu, funku, či reggae a to všetko v originálnom a nekonvenčnom podaní.
Podujatie z verejných zdrojov podporil Fond na podporu umenia.
Web: www.bombura.sk
FB: https://www.facebook.com/bomburankp
Predpredaj Stivín: https://predpredaj.zoznam.sk/sk/listky/jiri-stivin-4040-katarina-malikova-horehronske-jazzove-dni-2022-10-21
Na ostatné koncerty je možné zakúpiť vstupenku priamo v NKP Bombura.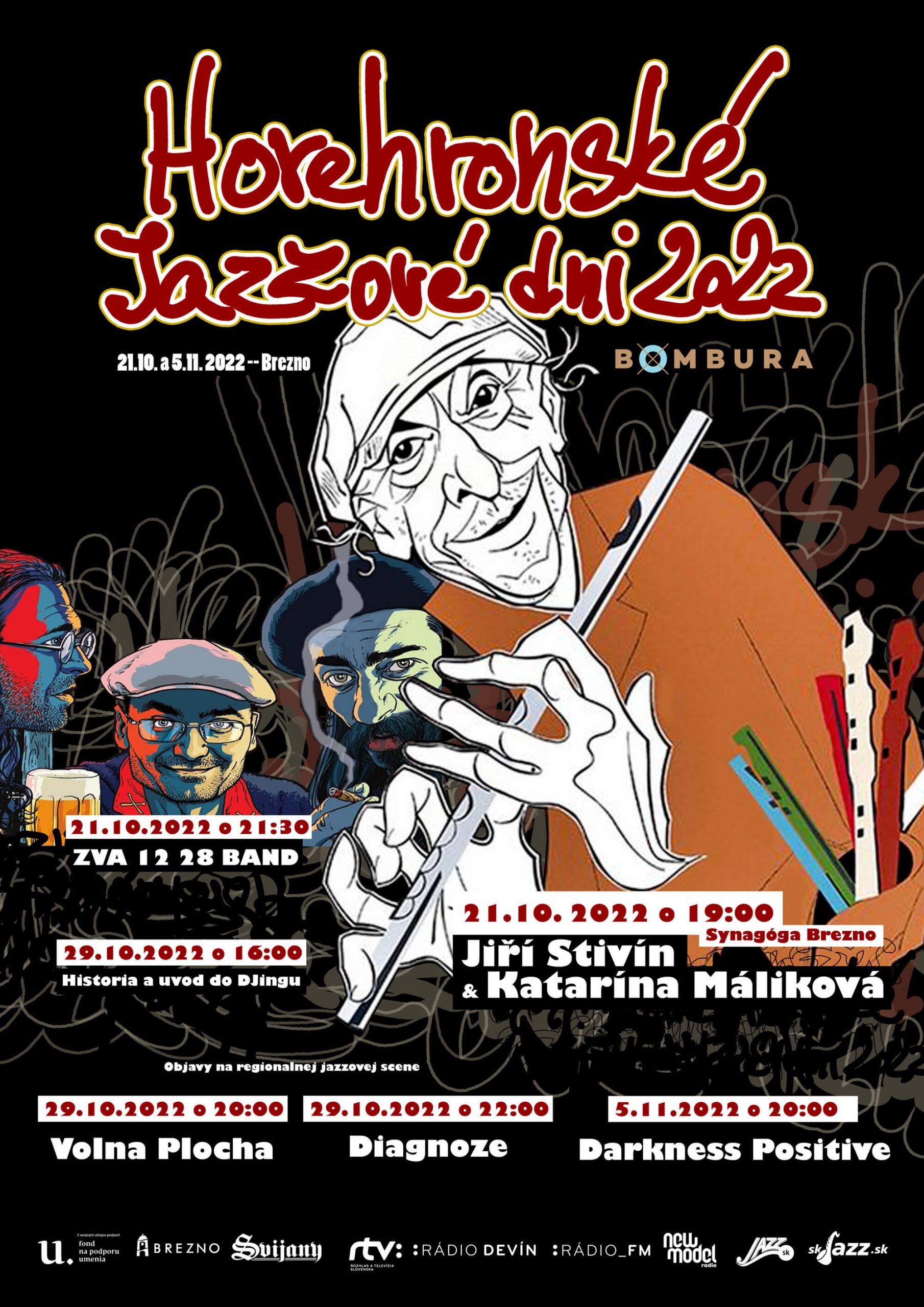 Zdroj: TS