Toto podujatie sa už konalo.
XION Invites Hydropsyche, Petra Hermanová & more
18. apríla 2020 @ 20:00

-

19. apríla 2020 @ 2:00

150,€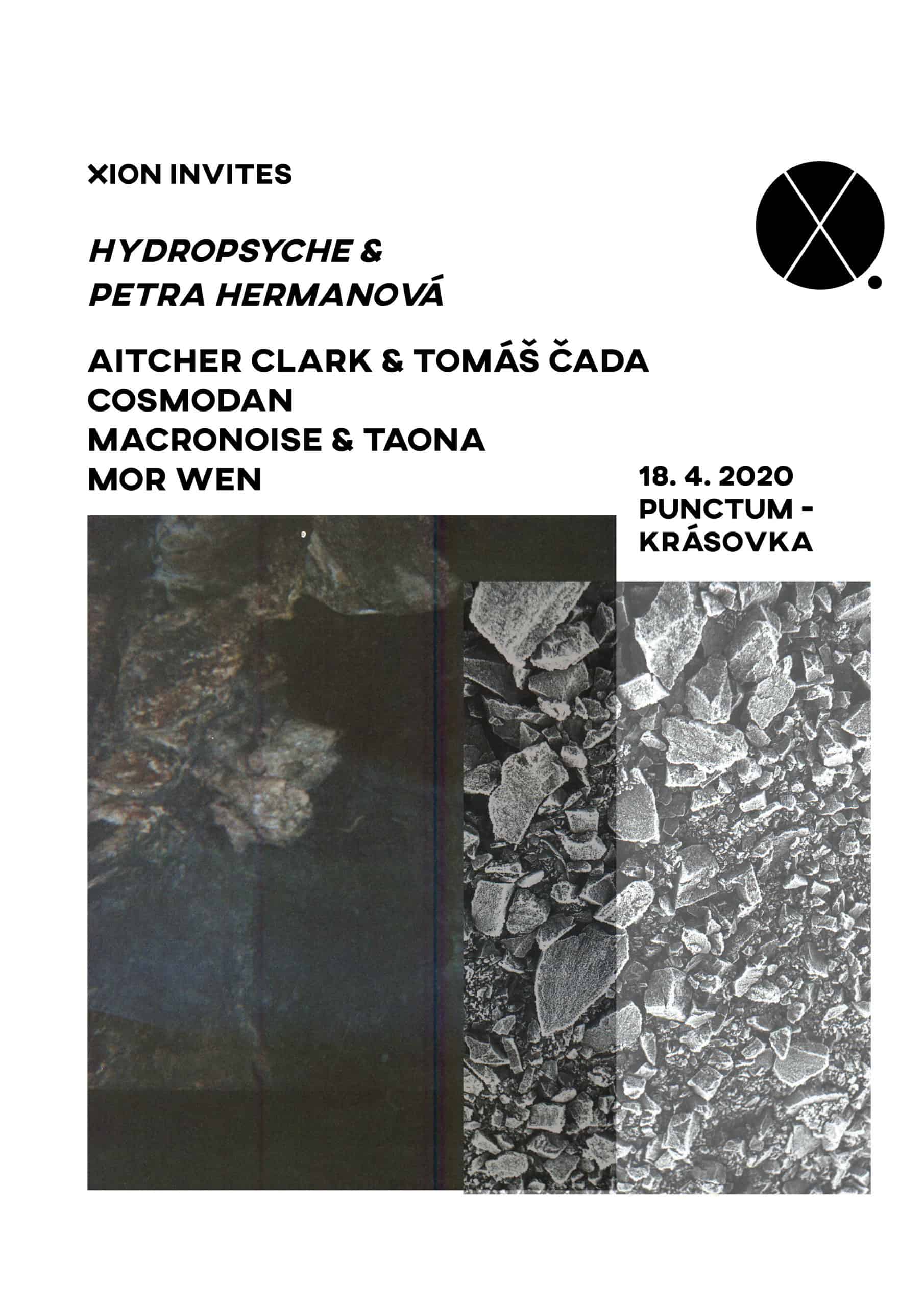 XION invites Hydropsyche & Petra Hermanova, Aitcher Clark & Tomáš Čada, Cosmodan, MacroNoise & Taona and Mor Wen
Hydropsyche & Petra Hermanová – hollowed out club music for the post-anthropocene. The debut album Scree which came out on High Heal in July 2019, is inspired by ancient history and the vestiges of our own time. Composing on modular and analog synthesizers, Hydropsyche explores evolving polyrhythmic melodies and composition within a pre-defined tonal structure. They are intertwining in the AV performance with a distorted, twitching botanical bacchanalia created by the visual artist Petra Hermanová, who explores moving image through handmade and digital animation techniques developed in a desire to embed and fold time onto itself.
soundcloud.com/hydropsyche
instagram.com/hydropsyche
youtube.com/channel/UCdD-Zwpzyim9j5LN9U0xWFA/
Aitcher Clark & Tomáš Čada – Synergy of music and words. Beat of life. Touching the obvious and unique. Circling around the meaning. Grin. Smile. Tears. Forest fauna and flora of dreams. Recording reality by sound, experience by word.https://soundcloud.com/aitcher-clark
Cosmodan – Prague based dj and producer, passionate digger and explorer of all kinds of music. In his sets he dives into odd rhythms and uncanny synths of disco, wave, broken techno and acid, trying to blend the music into one cosmic journey, regardless the genre.https://soundcloud.com/cosm0dan
MacroNoise & Taona – A meltdown of ambient, idm, techno and drum and bass, interwined by a dark atmosphere, pulsating dynamics and bits of Slovak folklore music. Accompanied by visuals by Punctum's own Taona.

Mor Wen's selection could be characterized by finding beauty in the strange sounds without any borders, connecting diverse styles of music into a emotinal cinematic-like mosaic – incorporating sounds from the streets, forests and mumbling voices and blending them with obscure overlooked music from the 80's and the 90's and also contemporary music from different corners of the world – encouraging to explore different ways of moving to any sound.