Toto podujatie sa už konalo.
Gwerkov // Awali // MacroNoise // Illl
26. mája 2019 @ 19:00

-

22:30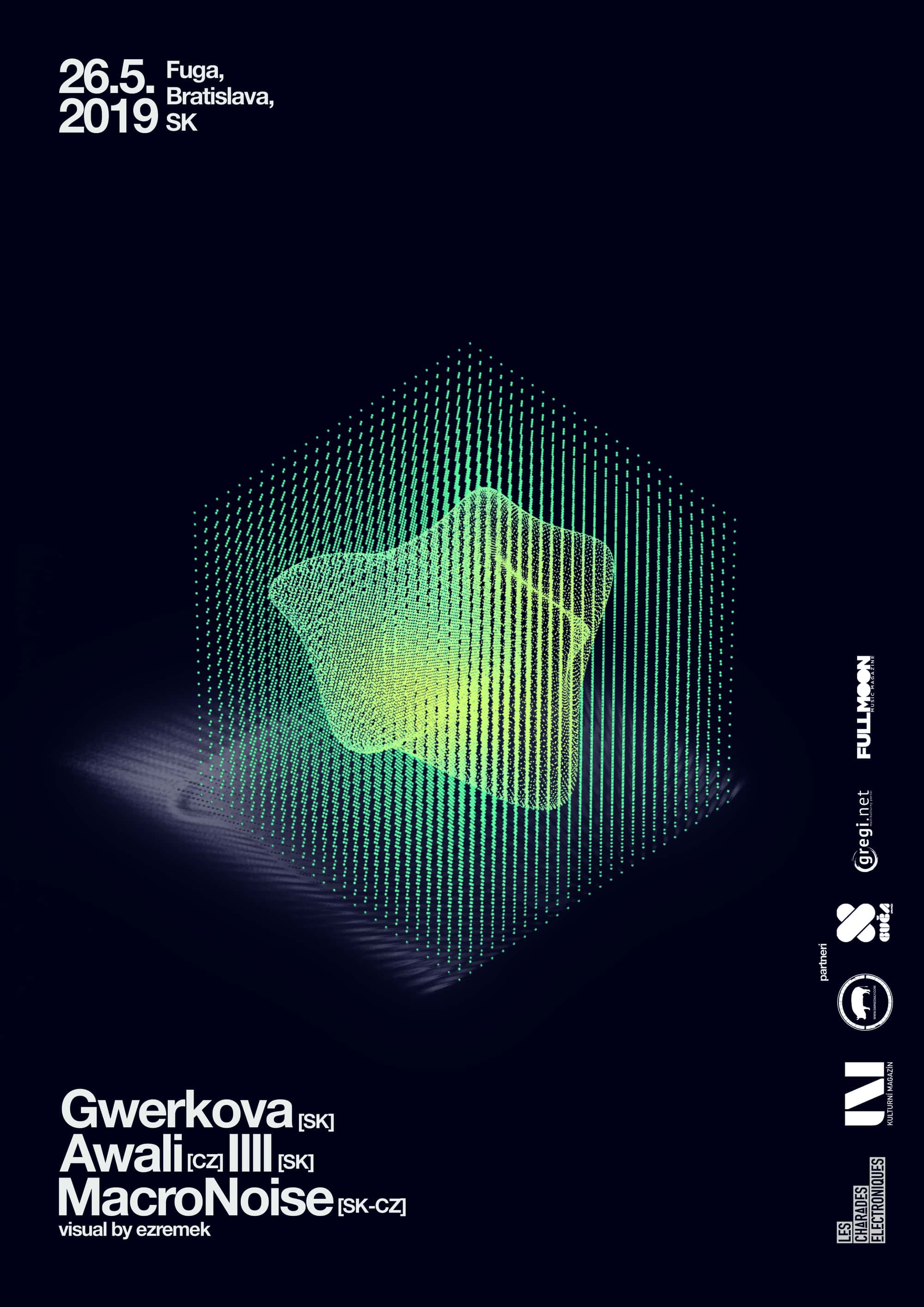 FB EVENT: https://www.facebook.com/events/300525353964442/
Nádielka česko-slovenskej elektroniky, ktorá sa nenechá žánrovo, ani inými hranicami, obmedzovať. MacroNoise spáchal microturné, na ktoré si ako posily zavolal projekty, ktoré sú na prvý posluch tak odlišné, a na druhý je jasné, že táto symbióza bude fungovať. gwerkova a Illl sú na svete ešte len jednu dekádu, no už sa dá hovoriť o ikonických projektoch na SK scéne. Multitalentovanú skladateľku Awali z Prahy je fajnšmekrom tiež zbytočné predstavovať. Príďte sa na túto zostavu pozrieť, nech sa vám predstavia svojim umením. Ešte predtým ich budete môcť spolu počuť na singly Domovina od MacroNoise, ktorý remixujú práve Illl a Awali, a o ktorého klip sa postará slovenská režisérka Patrícia Gyenesová.
Czech and Slovak music acts Gwerkova, Awali, MacroNoise and Illl first met on single Domovina (Homeland) by MacroNoise, which releases at the beginning of April. Right after that they come to present an eclectic evening full of progressive music. Whether it is the lucid dreaminess of Gwerkova, melancholic ambient of Awali, hypnotism of MacroNoise or slowly evolving beats and broken tape loops of Illl, the whole show will be connected together by their love of unconventional electronic music.
GWERKOVA
White Lies (najnovší singel) – https://gwerkova.com/
Live https://www.youtube.com/watch?v=UJknJ80Ns_c
Recenzia: https://hudba.zoznam.sk/recenzie/30-03-2015-gwerkova-ukazuje-krasu-introvertnej-hudby/
AWALI
White Silence (official video) https://www.youtube.com/watch?v=CfgKenuaVxo
rozhovor frontman.cz/awali-myslenky-necekaji-az-dojdu-domu
Live BalconyTV https://www.youtube.com/watch?v=B_omjkCnjGA
MACRONOISE
Saturn Dust (official video) https://www.youtube.com/watch?v=gohyJw_KoSI
Live https://www.youtube.com/watch?v=UH7oCkRMjHI
Illl
Das Spaces https://www.youtube.com/watch?v=Oz3d_7HceaI
Flamboyant Tree https://www.youtube.com/watch?v=ZuN2Ei63DeM
Nacht en Licht https://www.youtube.com/watch?v=gQf24b-8940