Talianska kinematografia sa na Slovensku roky teší veľkému záujmu divákov. Pre nich je pripravený 16. ročník Stredoeurópskeho festivalu talianskeho filmu MittelCinemaFest s deviatimi filmami rôznych žánrov roka 2018, ktoré získali ocenenia na medzinárodných festivaloch a viaceré na uvedenie do domácej distribúcie ešte len čakajú.
Diváci sa okrem zaujímavých debutov a najnovších snímok režisérov ako Mario Martone, Matteo Garrone či Robert Andò môžu tešiť na skvelé herecké výkony Barbory Bobulovej, Alby Rohrwacher, Alessandra Gassmana a mnohých ďalších.
MittelCinemaFest potrvá v bratislavskom Kine Lumière od 22. do 26. novembra 2018, po prvý raz sa bude konať aj v Košiciach, a to 25. a 26. novembra. Pripravil ho Taliansky kultúrny inštitút v Bratislave v spolupráci s Istituto Luce Cinecittà.
"Taliansko sa pýši významnou tradíciou kvalitnej kinematografie, sme krajina s najvyšším počtom držiteľov Oscara v kategórii "najlepší cudzojazyčný film". Súčasná talianska filmová produkcia má podporu štátu ako neoddeliteľná súčasť propagácie Talianska vo svete, jedným z cieľov pôsobenia diplomatických misií a Talianskych kultúrnych inštitútov je práve predstavovať to najlepšie z nášho filmu," povedal taliansky veľvyslanec na Slovensku Gabriele Meucci. Ďalej pripomenul, že špeciálne talianskemu filmu patrí na Slovensku najmä mesiac jún s prehliadkou Cinevitaj a november s festivalom MittelCinemaFest.
"Každoročne sa snažíme prinášať filmy, ktoré nám ponúkajú rôzne pohľady na taliansku spoločnosť. Nie je to vždy Taliansko, ktoré poznáme z turistických sprievodcov, viacero filmov nás aj tentokrát zavedie do odľahlých kútov krajiny a okrajových štvrtí, kde sa však odohrávajú silné ľudské príbehy, ktoré nás nútia stále viac sa zamýšľať nad hodnotami sveta v ktorom žijeme. Výsadou talianskej kinematografie je, že to dokáže robiť s istým nadhľadom a sebairóniou," uviedla Adriana Šulíková z Talianskeho kultúrneho inštitútu, ktorá sa spolupodieľa na zostavovaní programu.
Do spomínanej skupiny režisérskych debutov patrí aj hudobný film Letizie Lamartire Navždy mladí a krásni, ktorý v tomto roku otvorí festival. Barbora Bobulová sa v ňom predstaví v úlohe popovej speváčky, žijúcej zo zašlej slávy a v takmer patologickom vzťahu so svojím synom.
Slovenská premiéra sa uskutoční vo štvrtok 22. novembra 2018 o 19.30 hod.
Na festivale majú svoje zastúpenie aj komédie. Prvá, s názvom Naliehavé zjavenie, je na programe v piatok 23. novembra 2018 o 18.00 hod. Režisér Gianni Zanasi obsadil do komickej úlohy bezbožnej, ale puntičkárskej geodetky Lucie, ktorej sa nečakane zjaví Panna Mária skvelú Albu Rohrwacher. Koprodukčný film krajín Taliansko- Grécko-Španielsko už pochodil mnohé festivaly, medzi inými aj festival v Cannes, Karlových Varoch, Haife a Aténach.
Veľké mená súčasnej talianskej kinematografie sú v tomto roku zastúpené aj Mariom Martonem a jeho najnovším filmom Capri Revolution. Príbeh divákov zavedie na malebný ostrov Capri, kde sa na začiatku dvadsiateho storočia sústredili umelci, voľnomyšlienkari i revolucionári, aby tu hľadali inšpiráciu a útočište. Film, ktorý na svoju taliansku premiéru ešte len čaká, je na programe v piatok 23. novembra 2018 o 20.00 hod.
Víkendový program otvorí v sobotu 24. novembra 2018 o 18.00 hod. Dogman aj u nás známeho talianskeho režiséra Mattea Garroneho (Reality Show, Gomorra). Film získal na tohtoročnom festivale v Cannes cenu za najlepší mužský herecký výkon, udelili ju Marcellovi Fontemu a na Medzinárodnom filmovom festivale v Jeruzaleme získal cenu za najlepší film. Na chudobnom predmestí žije Marcello (Marcello Fonte), ktorý delí svoj čas medzi prácu v skromnom salóne pre psy a láskyplnú starostlivosť o svoju dcéru (Alida Baldari Calabria). Je to prostredie, kde platí len zákon najsilnejšieho a chod života tu ovplyvňuje miestny vagabund a bývalý boxer Simoncino (Edoardo Pesce). Režisér filmu Matteo Garrone o svojom prístupe k filmu prezradil: "Dogman nie je filmom len o pomste, aj keď pomsta (možno by bolo lepšie napísať vykúpenie) v ňom hrá dôležitú úlohu. Rovnako to nie je ani variácia na tému večného boja slabšieho so silnejším. Je to film, ktorý nás stavia pred niečo, čo sa týka nás všetkých: pred dôsledky vlastných rozhodnutí, ktoré robíme každý deň, aby sme prežili."
Komediálna dráma Duccia Chiariniho Hosť s istou dávkou humoru ale aj trpkosti ponorí divákov do zložitej spleti rodinných a medziľudských vzťahov. V jedno zimné popoludnie sa Guidovi v milostnom záchveve prihodí udalosť, ktorá zmetie zo stola jeho predstavu o spokojnom živote a predovšetkým vnesie pochybnosť do jeho vzťahu s priateľkou Chiarou. Je to začiatok krízy a Guido je čoskoro nútený zbaliť si kufre a odísť. Taliansko-švajčiarsko-francúzsky film je na programe v sobotu 24. novembra 2018 o 20.15 hod.
V nedeľu 25. novembra 2018 o 18.00 hod. uvedie festival najnovší film Roberta Andó Ukradnutý Caravaggio s vynikajúcim hereckým obsadením. Micaela Ramazzotti, Alessandro Gassman, či Renato Carpentieri poodhalia rúško tajomstva, ktorým bola zahalená krádež Caravaggiovho obrazu Narodenia v roku 1969 v Palerme.
Festival v Cannes preveril aj najnovší film Alice Rohrwacher Šťastný Lazzaro, ktorý tam získal cenu za najlepší scenár. Šťastný Lazzaro patrí spolu s Dogmanom Mattea Garroneho k najúspešnejším a najoceňovanejším filmom tohtoročnej talianskej filmovej sezóny. Je príbehom o priateľstve medzi mladým a dobrosrdečným sedliakom Lazzarom a mladým šľachticom Tancredim, opantaným vlastnou predstavivosťou. Ako sa píše v režijnej poznámke: "Lazzaro Felice je príbeh malej, skrytej svätosti bez zázrakov, bez zvláštnych schopností, bez špeciálnych efektov: svätosť bytia vo svete a bez súdenia iných, s vierou v ľudí. Rozpráva o možnosti dobra, ktorú ľudia vždy ignorovali, ale ktoré sa znova objavuje ako niečo, čo tu mohlo byť a my sme to nechceli". Taliansko-nemecko-francúzsko-španielsky film sa bude premietať v nedeľu 25. novembra 2018 o 20.00 hod.
Posledná komédia príde na rad v pondelok 26. novembra 2018 o 18.00 hod., ide o film Muž, ktorý kúpil mesiac režiséra Paola Zuccu. V odľahlej sardínskej dedinke ktosi získal osobné vlastnícke práva na Mesiac. Táto správa prichádza do ústredia istej pochybnej agentúry pre atlantické bezpečnostné služby v severnom Taliansku a dáva do pohybu príbeh tajného agenta Kevina, povereného dôležitou misiou.
Tak ako otvárací film, aj ten záverečný – v pondelok 26. novembra 2018 o 20.00 hod. – bude režisérskym debutom. Tentokrát ide o drsne realistickú a citlivo natočenú snímku Keď chlapci plačú súrodencov Damiana a Fabia D'Innocenzo. Tí odkrývajú príbeh dvoch nerozlučných kamarátov z rímskej periférie, pre ktorých sa snaha o zvrátenie osudu vo svoj prospech stane odsúdením. Tragédia sa náhle mení na očividný zásah šťasteny: človek, ktorého zabili, bol bývalým členom miestneho zločineckého klanu a tým, že ho odstránili, získali rešpekt a peniaze, ktoré nikdy nemali. Vstupenku do pekla nečakane vymenili za lístok do neba.
Po prvý raz sa časť prehliadky presunie aj do Košíc, do tamojšieho Kina Úsmev. Za dva dni predstaví publiku tri filmy: v nedeľu 25. novembra 2018 o 18.15 hod. Navždy mladí a krásni a o 20.00 hod. Muž, ktorý kúpil mesiac. V pondelok o 20.00 hod. uzavrie prvý ročník prehliadky film Hosť.
Bratislavský festival bude sprevádzať výstava s názvom Rímsky kufor, znovuobjavené fotografie "sladkého života", ktorá prebieha v Kine Lumière od 8. novembra a potrvá až do 3. decembra 2018. Za vzácnou výstavou fotografií stojí skutočný príbeh. Fotograf Marcello Mencarini si kedysi kúpil starý kufor a okrem iného v ňom našiel približne 600 čierno-bielych negatívov. Časom sa ukázalo, že sú to vzácne dobové zábery hercov, politikov, spisovateľov ako Sophia Loren, Charlie Chaplin, Audrey Hepburn, Marlene Dietrich, Juliette Greco, Jean-Paul Sartre, Igor Stravinsky zachytených v Ríme v 50-tych a 60-tych rokoch, ktoré charakterizovala "Dolce Vita". Ich autor je neznámy.
Marcello Mencarini navštívi pri príležitosti otvorenia MittelCinemaFestu Bratislavu a dňa 22. novembra o 17:30 v Kine Lumière porozpráva o svojej výstave ako aj o úlohe paparazzi v období "sladkého života" v Ríme.
Festival MittelCinemaFest pripravil Taliansky kultúrny inštitút v Bratislave spolu s Istituto Luce Cinecittà, v spolupráci s Talianskymi kultúrnymi inštitútmi v Budapešti a Prahe.
Vstupné na jednotlivé projekcie je 4,50 Eur/3,50 Eur, je možné si zakúpiť v Kine Lumière
Viac informácií o filmoch: www.iicbratislava.esteri.it, www.kino-lumiere.sk, www.kinousmev.sk, www.filmitalia.org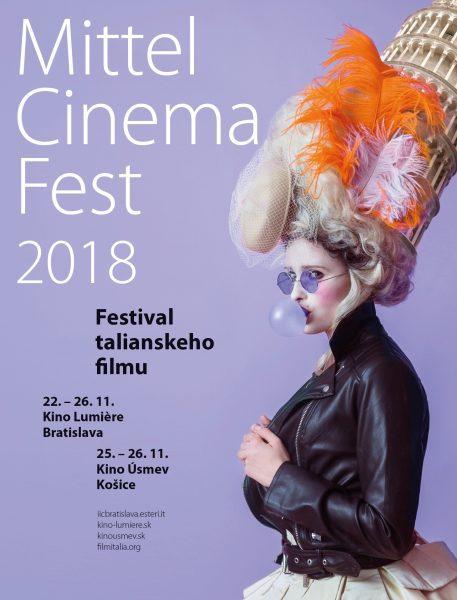 Zdroj: TS